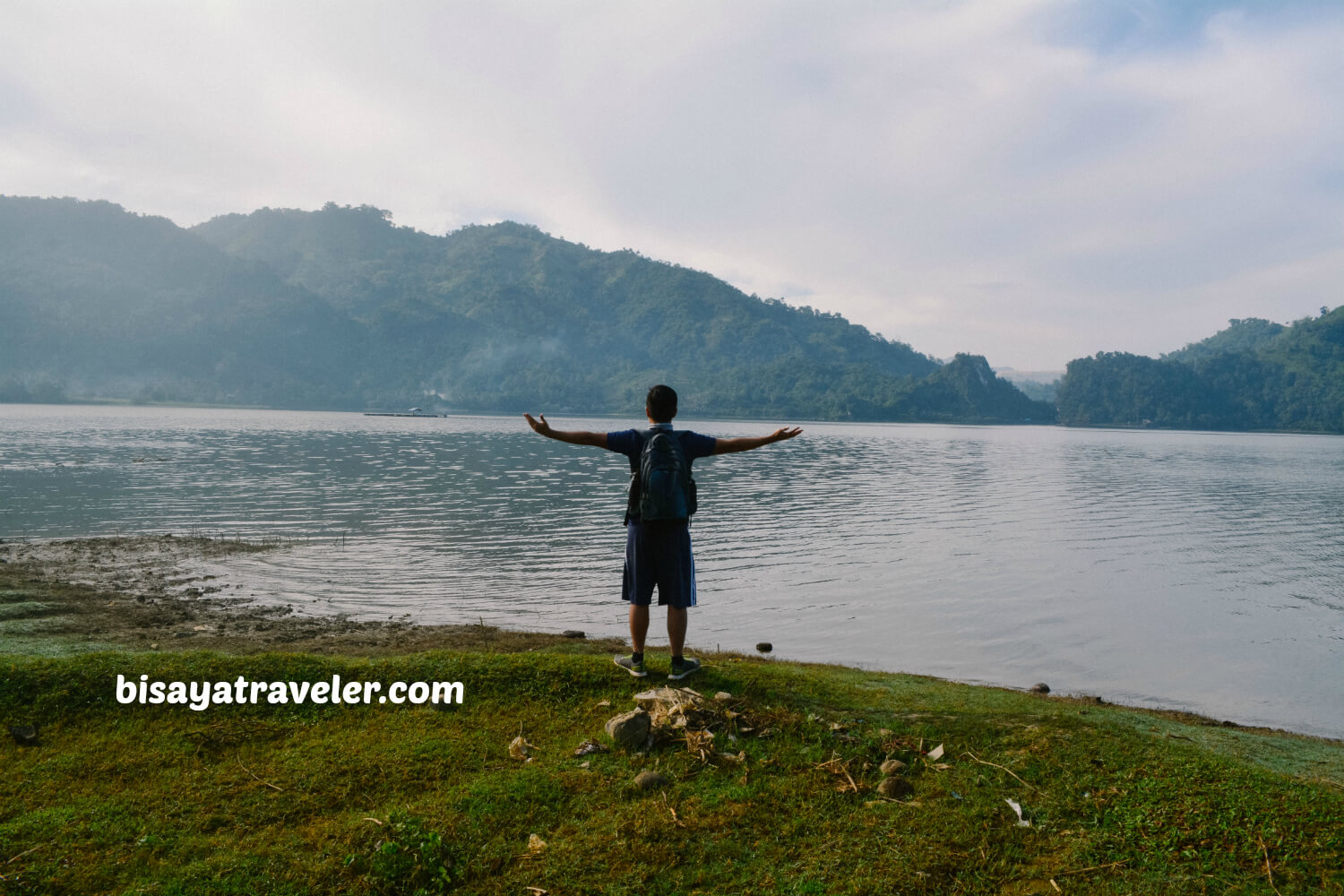 Malubog Lake And Malubog Falls: Exploring Toledo's Wondrous Treasures
From the gleaming 10,000 Roses in Cordova to TIEZA Botanical Garden, there have been quite a few scenic Instgrammable spots in Cebu that have been making the rounds on social media as of late. With their picturesque scenery and incredible floral displays, these spots have mesmerized and captured the hearts of almost everyone in Cebu. And while these spots are fairly popular and picturesque, I somehow have little interest in visiting and seeing them in person. Nowadays, I've been more inclined to see unsung spots like Malubog Lake and Malubog Falls than Cebu's buzzing crowd magnets.
Don't get me wrong – I'm not saying that these sought-after places are not worth your time. As a matter of fact, I may even drop by these spots in the near future, specifically when the crowds of visitors start to dissipate. Whether it's because of my introvert tendencies or my yearning for the off the beaten path, I just don't seem to enjoy experiencing trendy spots as much as others do.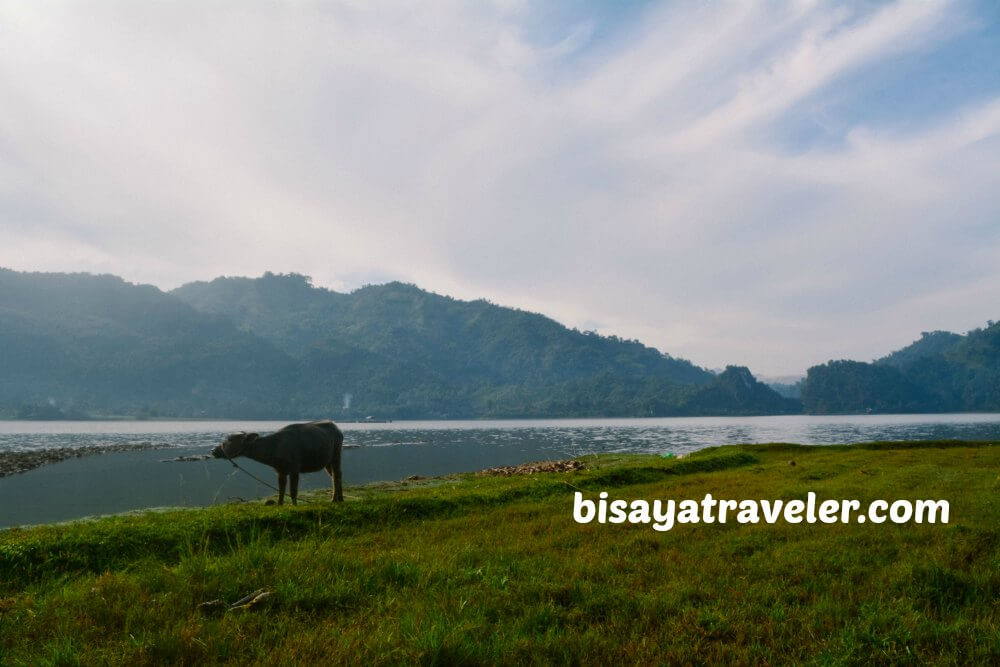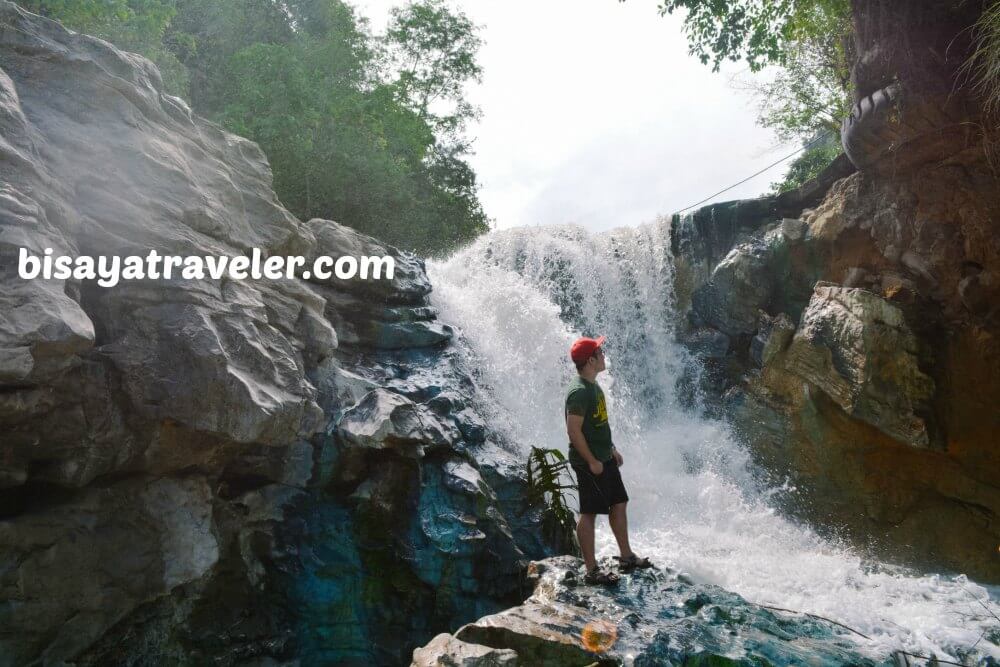 Luckily for me, there are still plenty of unheralded places in Cebu that let me steer clear of the flocks of travelers. And one of these hidden gems is the eye-catching Malubog Lake in Toledo city, Cebu. With the help of RJ Alegado and Beth Dacuma (the charming lovers who have been inspiring people with their awesome travel photos), I and the rest of Team Bang had the opportunity to lay eyes on Malubog Lake in Barangay General Climaco. As an added bonus, we also were treated to a plethora of other spectacular sights in Beth's wondrous playground, including Tagaytay Hill, Malubog Tunnel and Malubog Falls.
Our Malubog Lake experience
Our Malubog Lake experience started with an early rendezvous at Cebu City South Bus Terminal. Although we weren't complete, there were a lot of Team Bang mainstays who joined me for this trip, including Ace, Christine, Donna, Kevin, Wilfred, Noel, Romy, Lieve, Jesh, Marzi, Sherlyn and Gelique.
Once the whole team was complete, we hopped on a bus bound for Pinamungajan via Toledo city. And, after a breezy 2-hour bus ride, we arrived at Julie's Bakeshop in Barangay Magdugo. From there, we took a short yet bumpy habal-habal ride to the Barangay Hall in Casoy.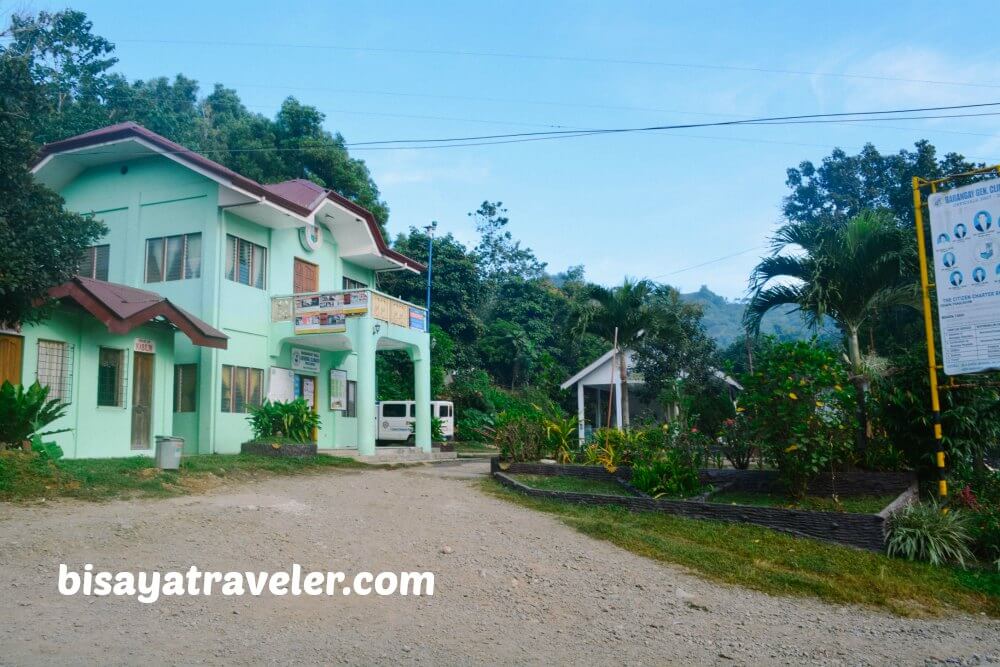 Afterwards, the rest of Team Bang went to the market area, to buy snacks and water. I, meanwhile, just stayed in the gym area, admiring the view of Malubog Lake since I had everything I need for this adventure on my backpack. Moments later, the incredible teacher-traveler Beth and the marvelous engineer (and fellow Bosconian) RJ arrived in the place where I was sitting. As we were waiting for the team, we had a quick chat about Malubog Lake and our past travel experiences.
Upon their arrival, we wasted no time, and made formal introductions to one another. Led by the miss-earth-worthy Donna, we also said a prayer, asking the divine being for guidance and good weather.
Before we can start our adventure around Malubog Lake, Beth gave us a quick rundown about the place.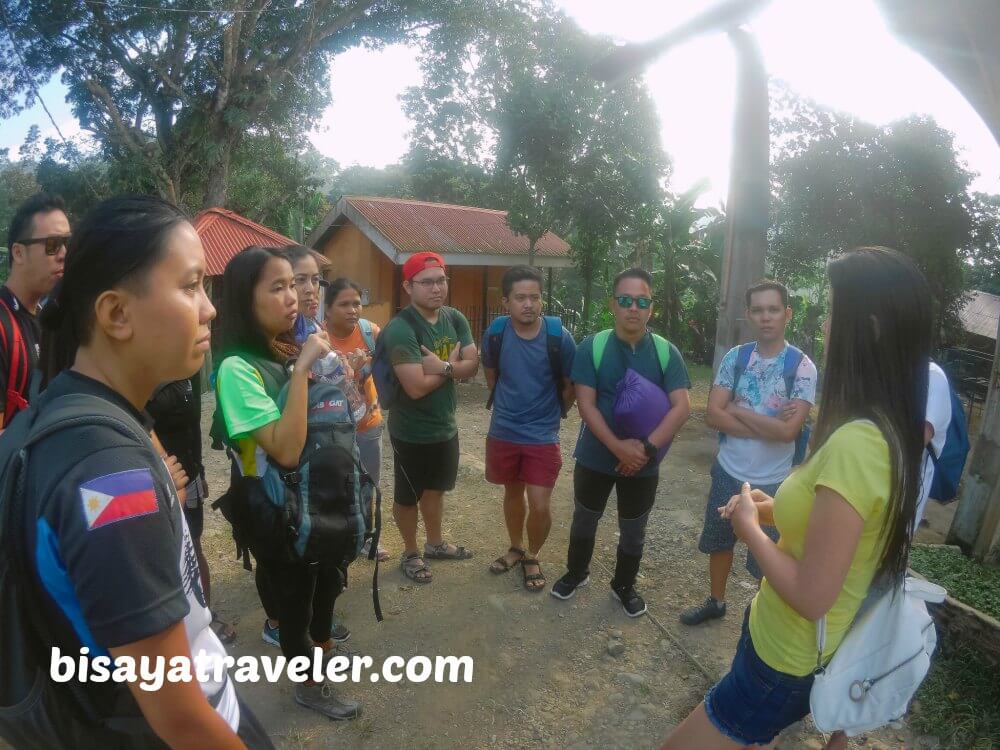 And some of the things she said were a little spine-tingling. According to Beth, Malubog Lake had some mysterious events as well as sightings of paranormal beings, like doppelgangers and a gigantic octopus in the past. Whether these occurrences were true or not, I agree with what Beth told us – "you should behave and respect the place".
Later on, we took descended to Malubog Lake, to get a better and sweeter view of this gorgeous gem.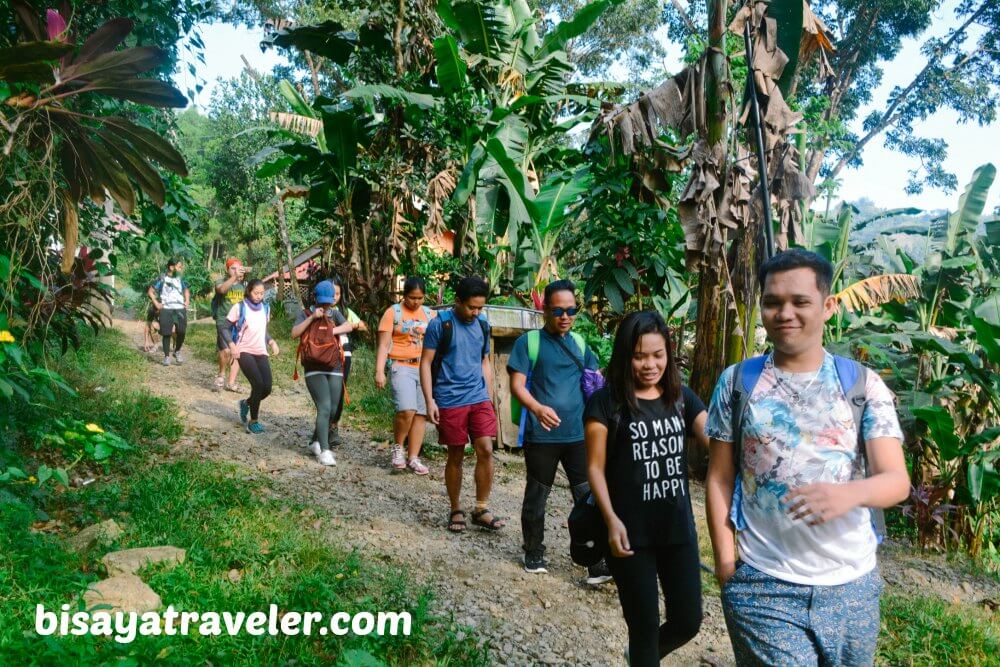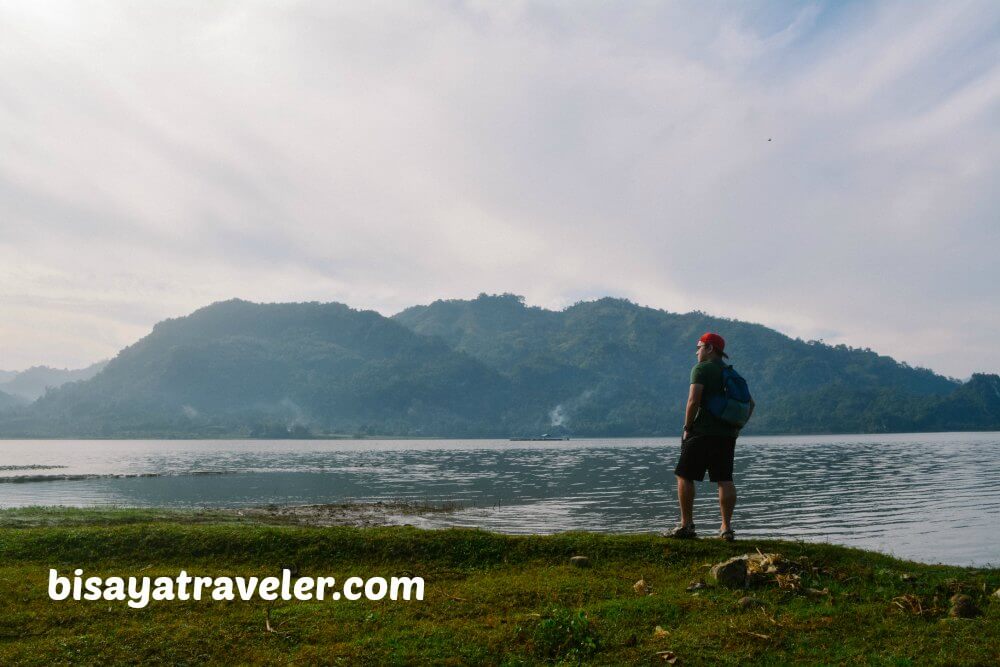 And yes, it was just as stunning and scenic as what I've seen in the pictures of the lovely couple. Plus, I also got a good view of the non-functioning floating restaurant of Malubog Lake.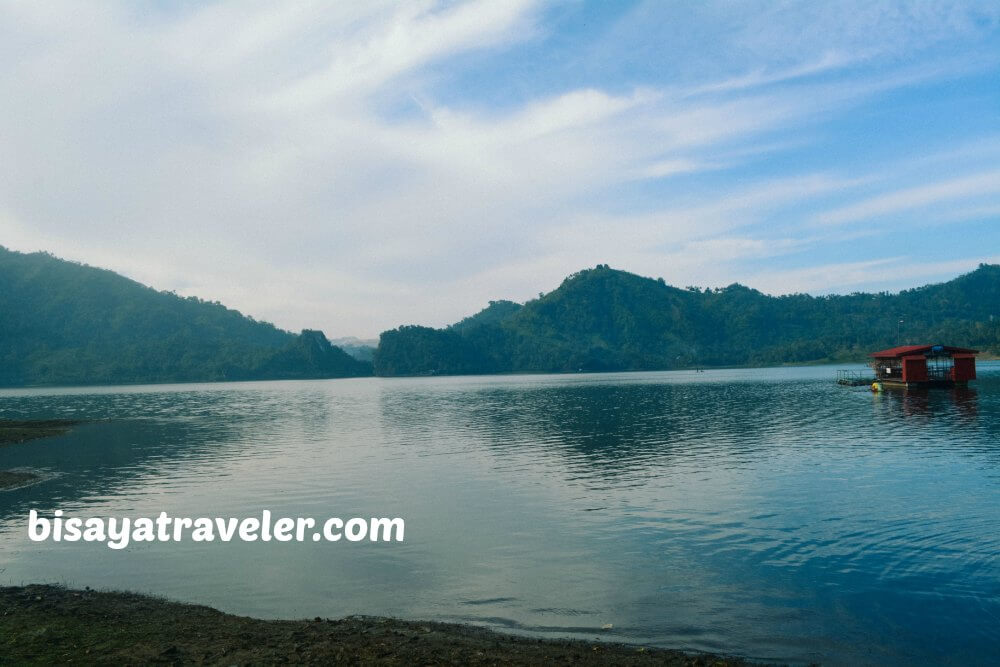 At first, everyone was as behaved, reserved and quiet as an obedient dog. Christine – the team's official energizer bunny and one of our jokesters – was unusually silent and meek. I even thought she was having a mild fever or something because she only uttered a few words.
But a few minutes later, Team Bang's trademark infectious energy began to turn up, striking a handful of wacky and jump shots in front of the camera.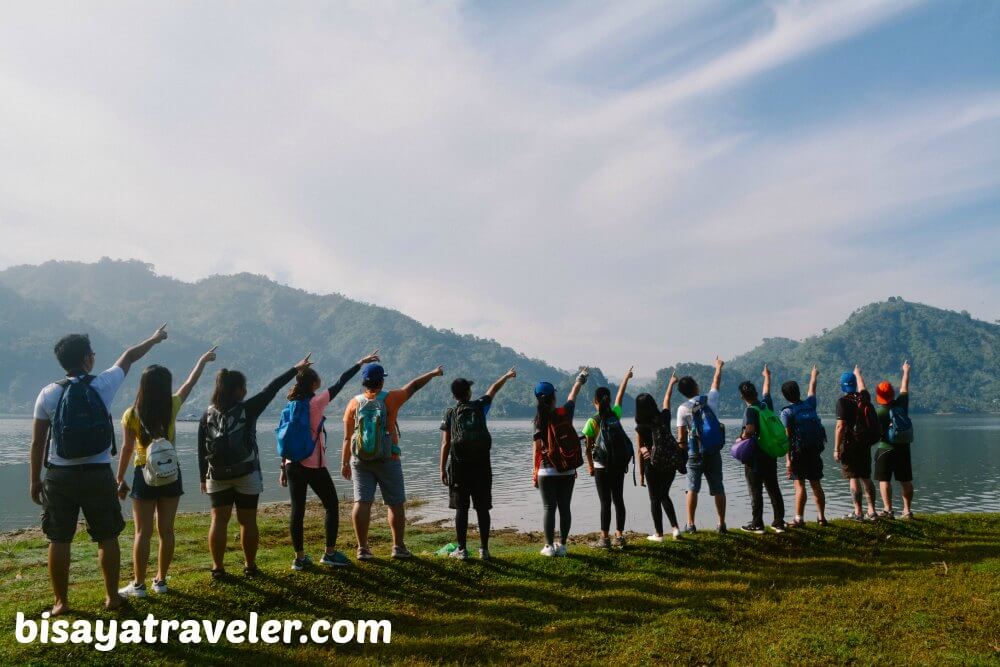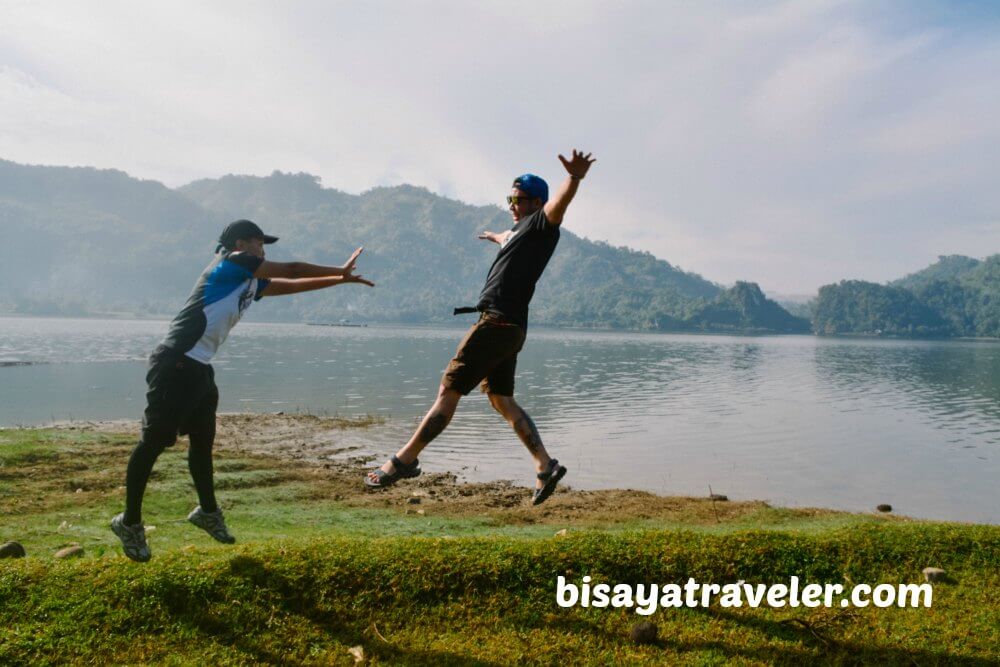 Of course, no Team Bang trip is complete without our maoy-maoy pose, which was introduced to us by Kevin during our treks in 2016.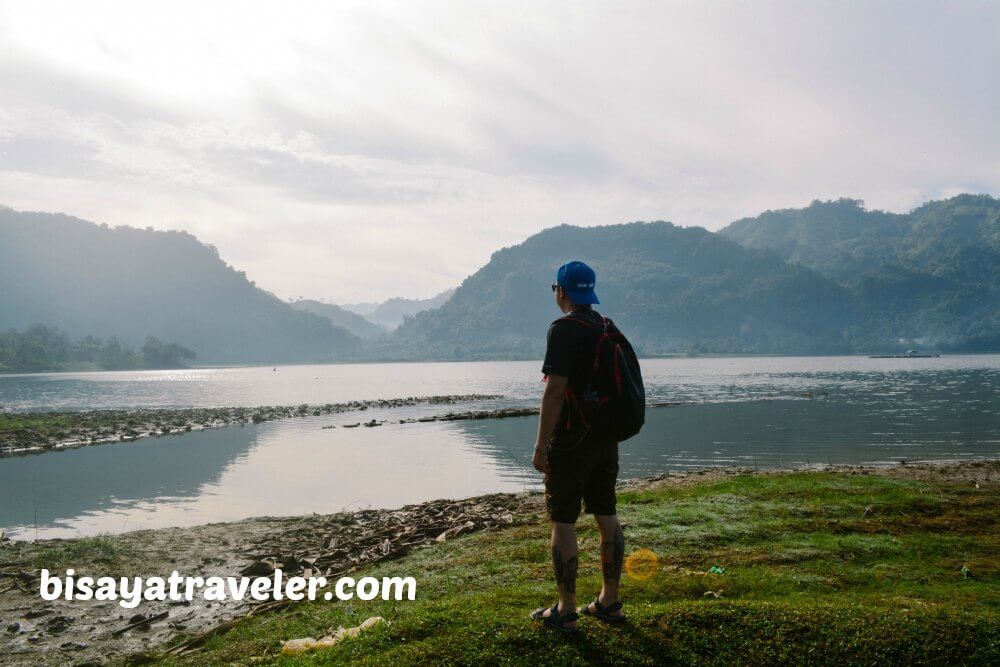 And, the slightly controversial love triangle in Ablayan Peak made an appearance on this trip as well.
Then, Beth and RJ led us to another great spot for photo-shoots in Malubog Lake. As always, we enjoyed the view, and snapped a lot of photographs of Malubog Lake.
Aside from the traditional wooden boats, there were also soft-drink and liquor bottles in the area that we, as you can see, used as props.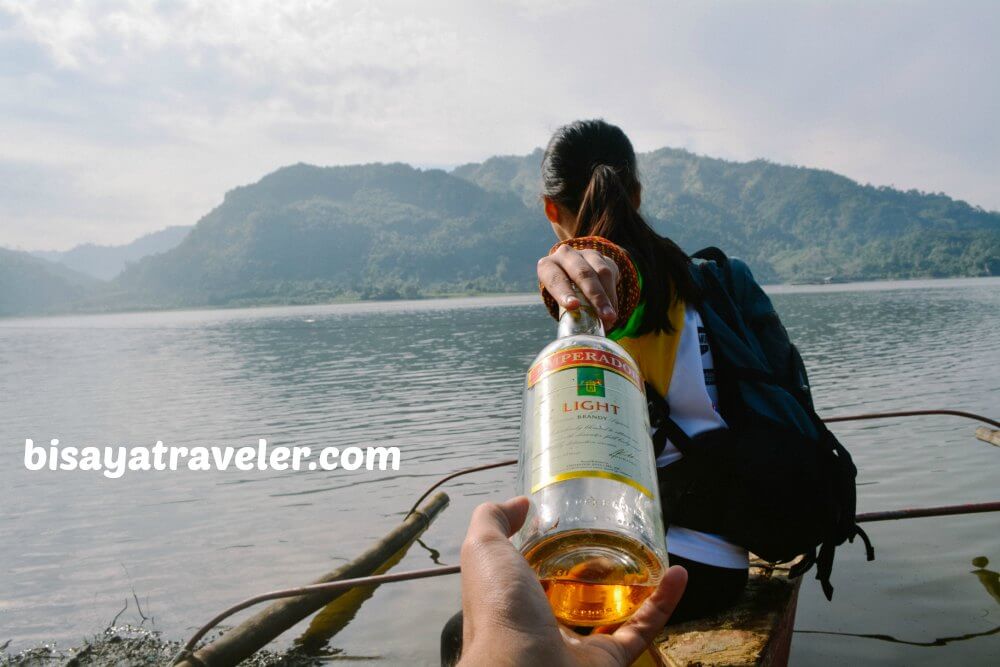 Since there were still plenty of sites to drop by, we had to leave this part of Malubog Lake early, and move on to our next destination – Malubog Falls.
Before we can reach the falls, though, we had to take a short hike as well as cross a shallow area of the lake.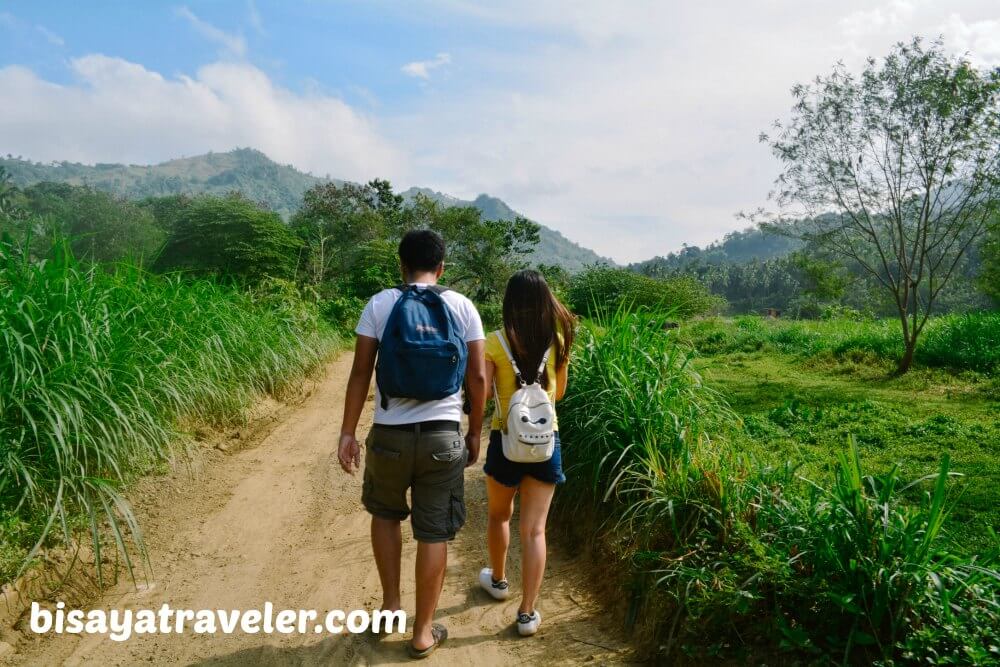 As we were about to cross the streaming water, Marzi, who didn't wear a pair of hiking shoes and boots, had to be literally lifted by Noel on his back, to get to the other side. Such a noble and gentleman-like act by Noel, I must say!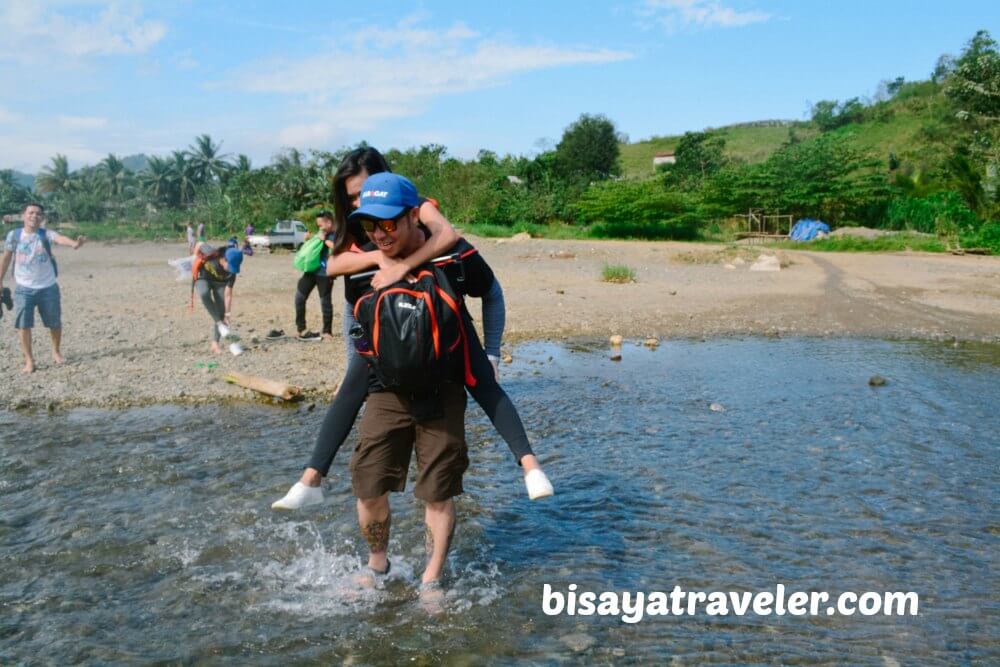 While we were making our way to Malubog Falls, we bumped into a multitude of beautiful sights, including plantations, cottages and stunning views of the lake. As always, the team made tons of poses, along the way.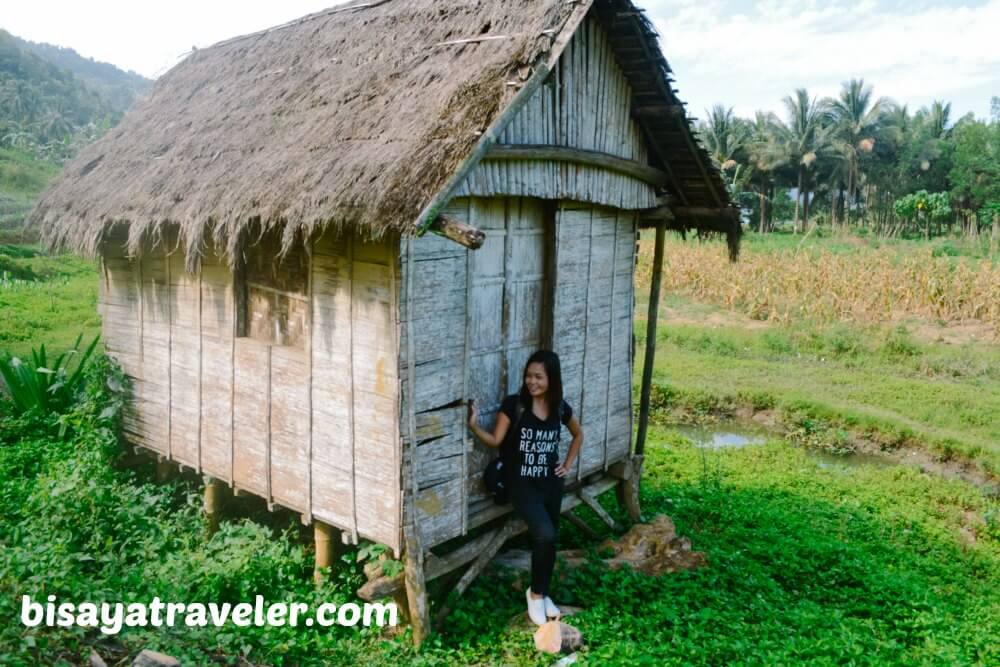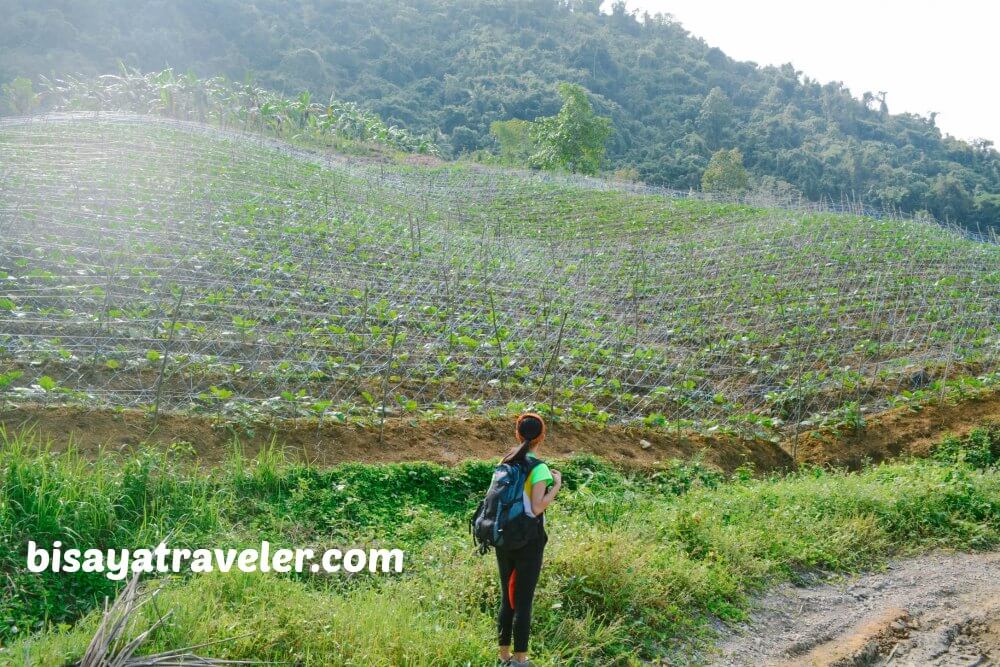 Eventually, we arrived at Malubog Falls, where I was utterly amazed by the unique color of its waters. Not to mention, some of its rocks have bizarrely shades of blues that reminded me of Chile's Blue Marble Cave.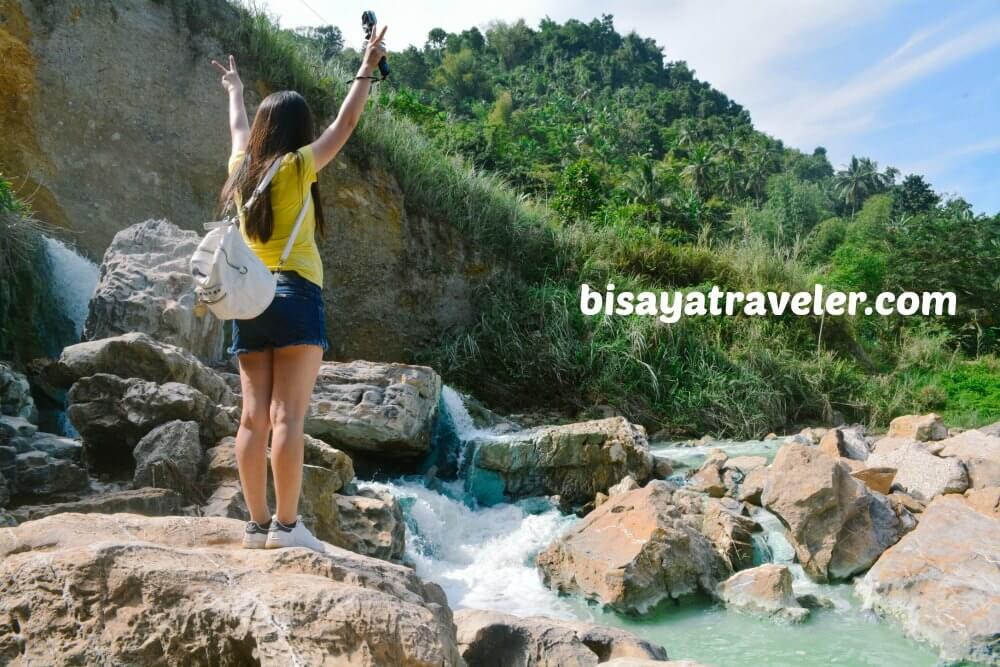 Unfortunately, swimming is strongly not recommended on this cascade in Toledo City.
Even though it looks photogenic, this waterfall is actually made up of toxic waste and chemicals. As Beth has pointed out earlier, this waterfall is connected to the controversial man-made lake in Lutupan – Biga Pit. There was even an unusual smell (not pungent, though) to it that I just can't describe in words.
I know what you're thinking – no, you're not going to turn yourself into a bad-ass super-hero like a ninja turtle or Wolverine, by plunging into these extraordinarily blue waters.
To get to best views of Malubog falls, we had to remove our footwear (the rocks are a tad slippery), and do a bit of climbing on sharp rocks and edges. Although we don't have much experience in rock climbing, we faced and conquered this small challenge with teamwork, perseverance and guidance from Beth and RJ.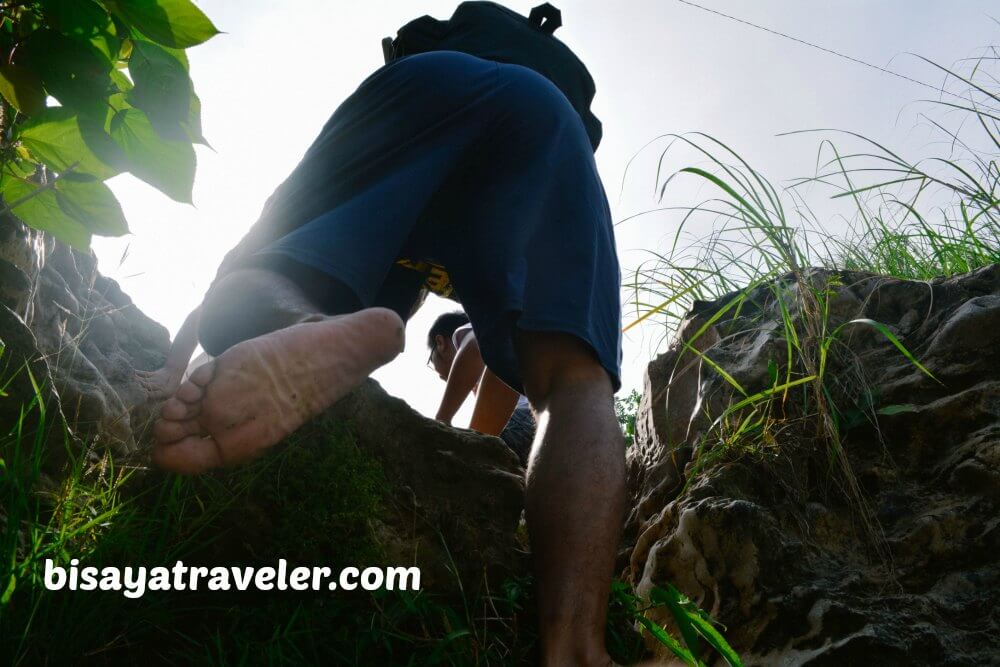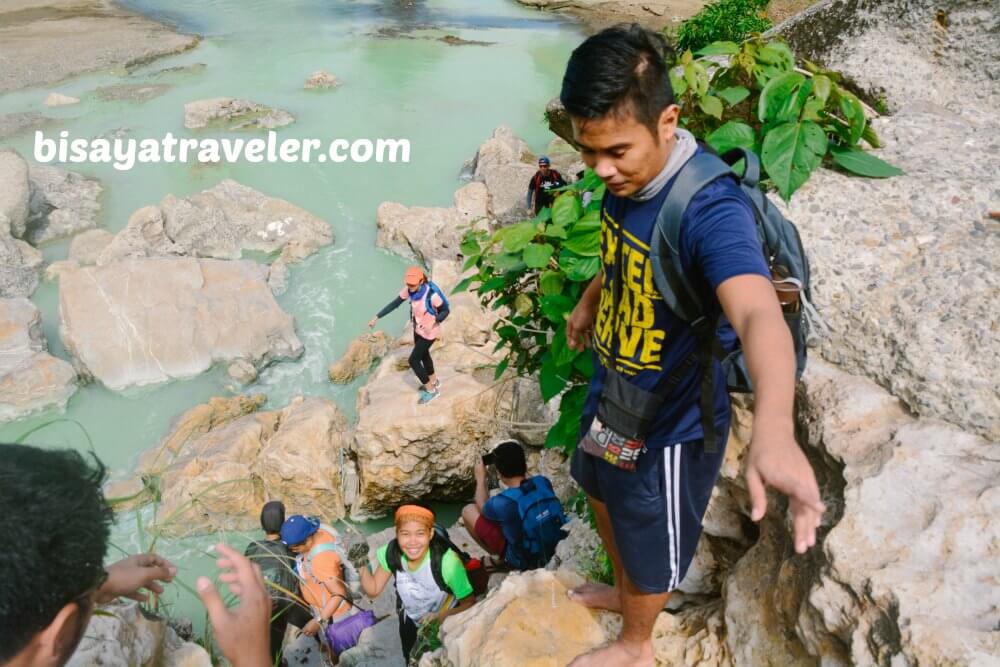 Speaking of the couple, they did conquer the rocks of Malubog Falls in a very impressive fashion.
We spent a few minutes there, enjoying the views and sharing our travel experiences. What's more, we took turns posing with our signature back –view poses on the waterfalls.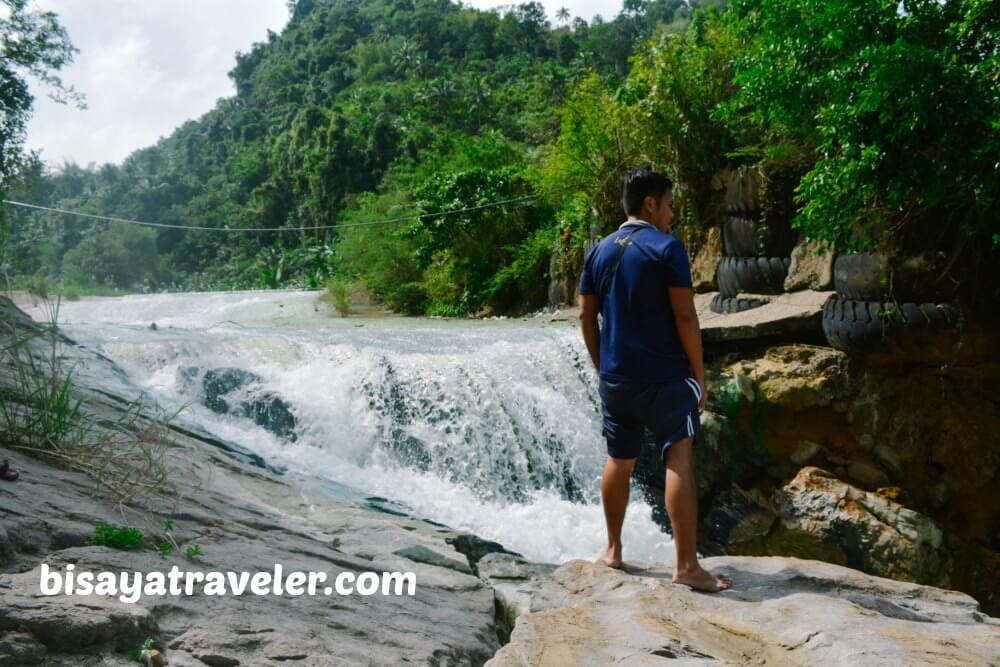 We, then, went down, to snap more pictures and make our way to our next stops – Malubog Tunnel and Tagaytay Hill (I'll write about these places later).
We capped off our stopover to Malubog Falls on a high note with an amazing group Dab pose. Quite a great way to start our adventure in Toledo, right?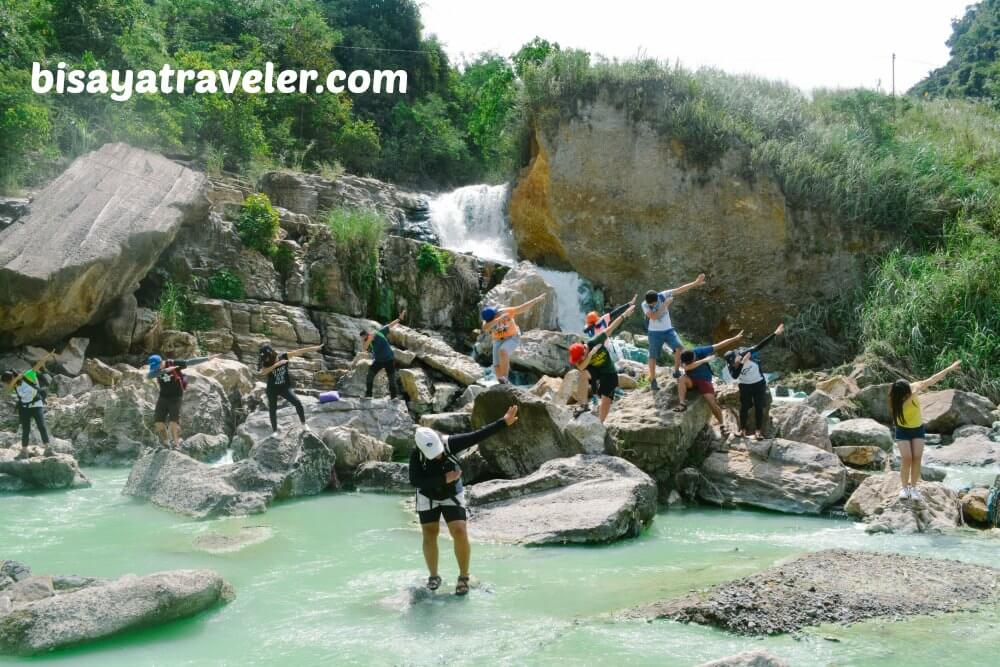 How to get to Malubog Lake
From Cebu City South Bus Terminal, take a bus ride heading to the copper city – Toledo, Cebu (fare is about PHP 45). Ask the driver or conductor to drop you off at Julies Bakeshop in Barangay Magdugo. Then, charter a habal-habal ride (PHP 50 to 60 per person) that will take you to Casoy Barangay Hall.
Alternatively, you may take a jeepney ride (PHP 20 per person) to Casoy Barangay Hall from Toledo city proper. Even though it's cheaper and safer, the jeepney ride can be rather time-consuming, and sometimes may take a couple of hours.
We did, however, try their jeepney ride, on our way back to Toledo. Though the ride was bumpy, it was nevertheless full of giggles, thrills and fun. Just ask besh Jesh of his experience with this exciting ride.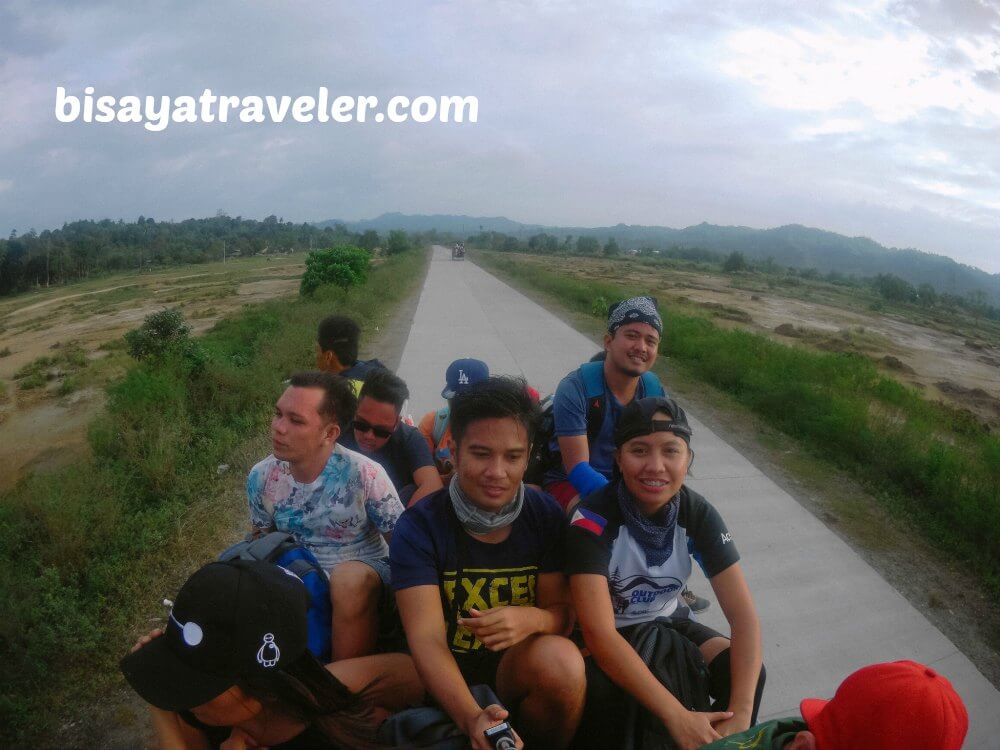 Cost breakdown:
Bus fare to Toledo city: PHP 45
Habal-habal fare to Casoy: PHP 60
Jeepney ride from Casoy to Toledo City: PHP 20
V-hire fare to Cebu city: PHP 100
Important notes:
There are stores in the area that offer the food and drinks you'llneed for your trip.
Practice the Leave No Trace principles.
Respect the place, and don't forget to greet the locals.
Avoid shouting and other disrespectful acts.
Take time to admire the view.
You may also take a habal-habal ride to reach the other attractions in the area, like the Malubog Tunnel and Malubog Falls.
It's best that you wear sandals or slippers during your trip. Remember, you'll be crossing streams of waters and climbing some slippery rocks.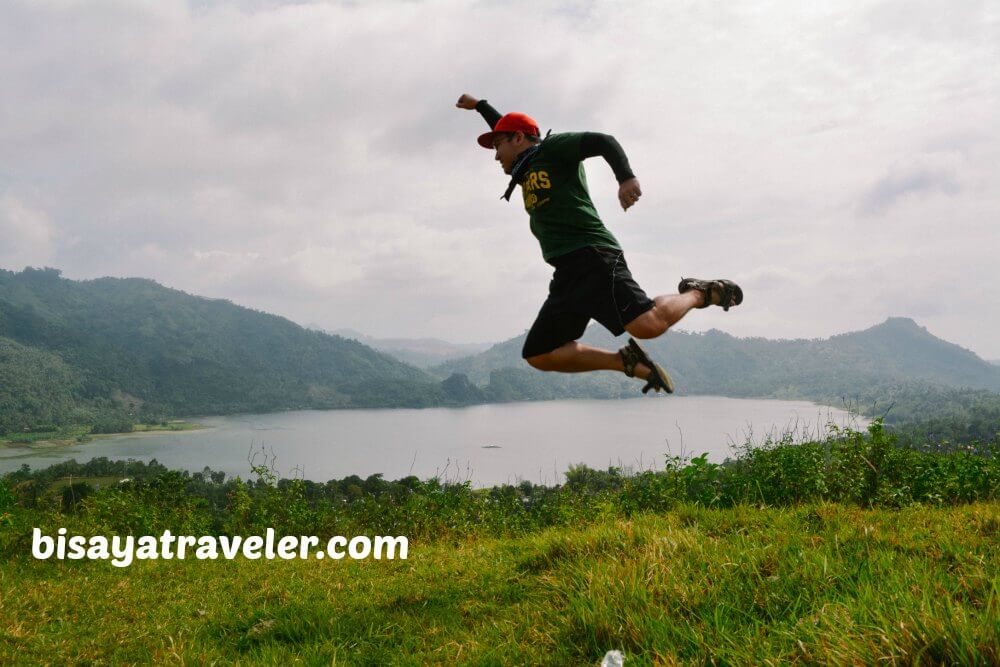 Sample Itinerary
04:30 AM: Meet-up at Cebu City South Bus Terminal
05:30 AM: Depart from Cebu City
07:30 AM: ETA Barangay Magdugo/ Depart for Casoy Barangay Hall
08:00 AM: Arrival at Barangay Hall/Buy food and snacks
08:30 AM: Admire Malubog Lake/Photo-shoot
09: 00 AM: Depart for Malubog Falls or also known as gamay na busay
09:45 AM: ETA Malubog Falls
10:30: AM: Depart from Malubog Falls
11:00 AM: ETA Malubog Tunnel/Explore the other side of the tunnel
12:00 NN: Return to tunnel/Lunch
01:00 PM: Start hike to Tagaytay Hill
02:30 PM: ETA Tagaytay Hill
03:30 PM: Start descend
04:00 PM: ETA Barangay Hall/Depart from the barangay
05:00 PM: ETA Toledo city Proper/Depart from the city
07:00 PM: Home sweet home
By the way, this is just the first part of a series of blog posts on Malubog. Please, check them out soon. Trust me, you won't regret it.