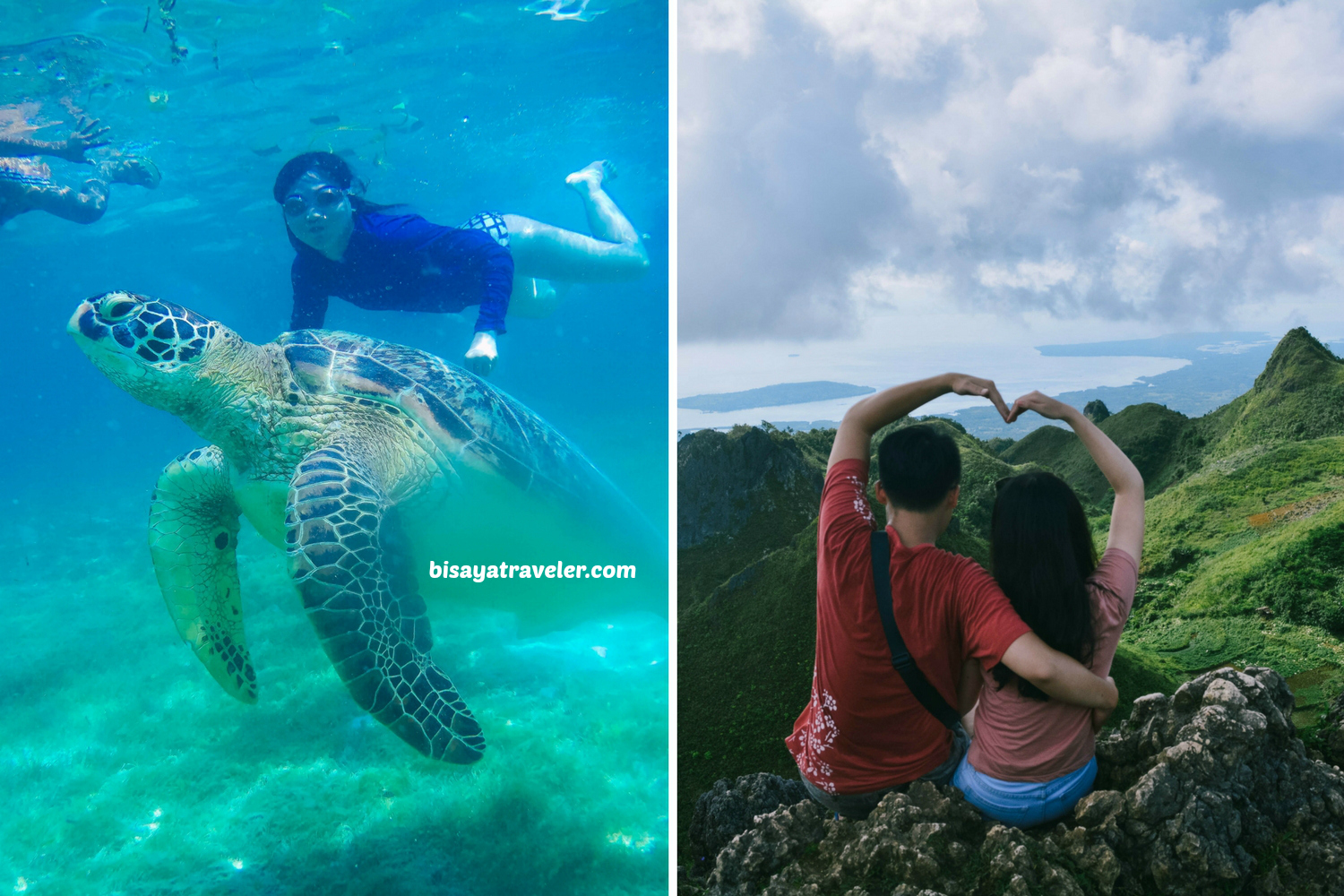 From Sea To Summit: A One-of-a-kind South Cebu Trip
South Cebu is, for me, a splendid mash-up for jaw-dropping wonders and sights. Praised for its striking waterfalls, towering peaks and powdery white-sand beaches, this sought-after tourist and backpacking trail is home to some of Mother Nature's masterpieces, like the Kawasan Falls and Osmeña Peak. A playground for intrepid travelers like me, South Cebu also offers a multitude of outdoor adventures, from spelunking and hiking to diving. Furthermore, it's stepped in culture and history, as well as boasts a bevy of tasty culinary treats like the chicharon, lechon and Argao's famed torta.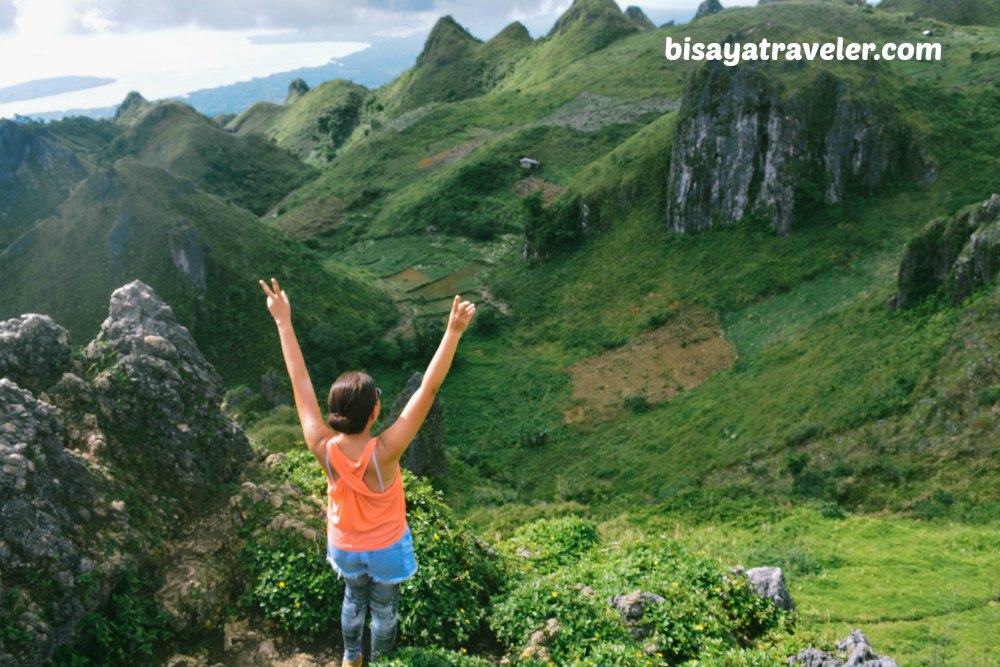 South Cebu is one of my favorite places to visit in the whole archipelago. Not only does it offer a smorgasbord of diversions, but it's fairly accessible as well. Whenever my city life gets too overwhelming, I just head to Cebu's South Bus Terminal, and take a ride to paradise. And though I've seen quite a lot of it, South Cebu still never seizes to amaze me. As a matter of fact, I've visited some of its most fascinating places on a number of occasions.
Last Saturday, I got another opportunity to explore South Cebu, when Tita Doris invited me and my wife to join them on their trip to Moalboal and Osmeña Peak. As a couple, we've explored and admired these splendid spots before. Still, we just can't pass up on this opportunity, in spite of our hectic schedule. And besides, I was yearning to see the sea turtles of Moalboal since I didn't catch sight of them on my first visit.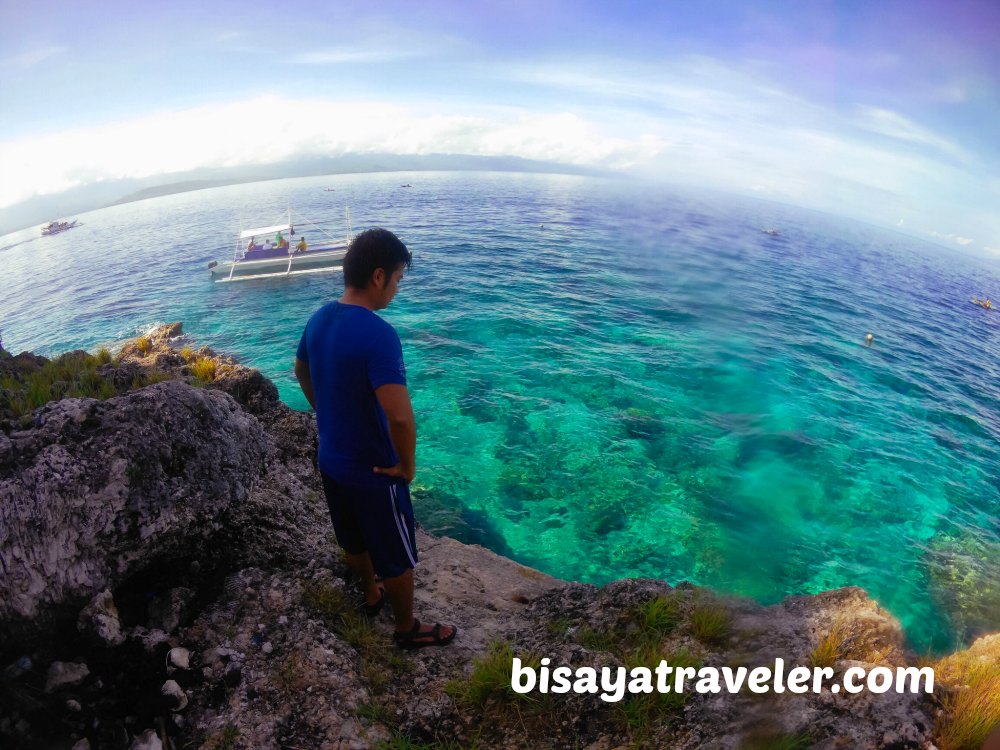 Our South Cebu experience
Our South Cebu experience started with a pick-up at our respective residences somewhere in Cebu city. Our official chauffeur for our trip was my good old friend, Phillip – the owner of Lucky J Rent a Car Services.  In addition, Tita Doris was accompanied by her son, Abraham, Tita Delia as well as Janelle with her Taiwanese boyfriend, Allan.
Once everyone was inside the van, we made our way to Jollibee Carcar to buy breakfast, and for a quick stopover. Afterwards, we drove all the way to Panagsama Beach, Moaboal, to start our South Cebu weekend adventure on a high note.
Upon our arrival, we hopped on a boat, and headed to the first stop of our island hopping trip in Moalboal – Pescador Island.
As soon as we arrived on the docking area, I was swept away into bliss by its crystal clear waters and vibrant corals. Of course, we wasted no time, and took a plunge on the lovely waters of Pescador Island.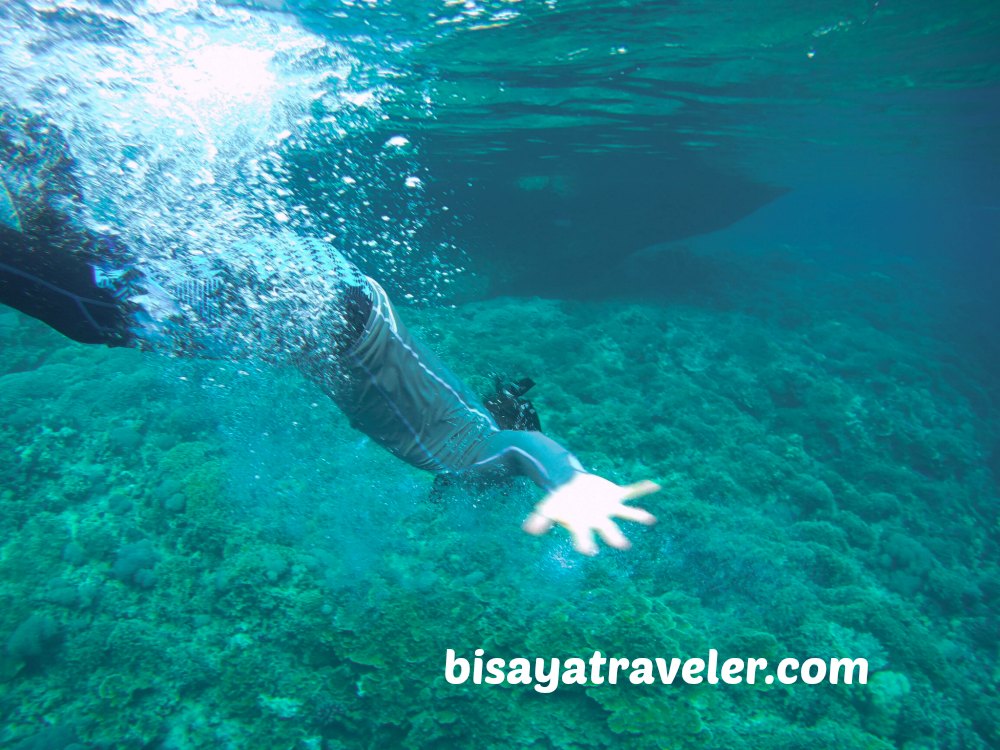 The gorgeous waters, colorful schools of fish and corals were simply irresistible, urging us to snap dozens of photographs.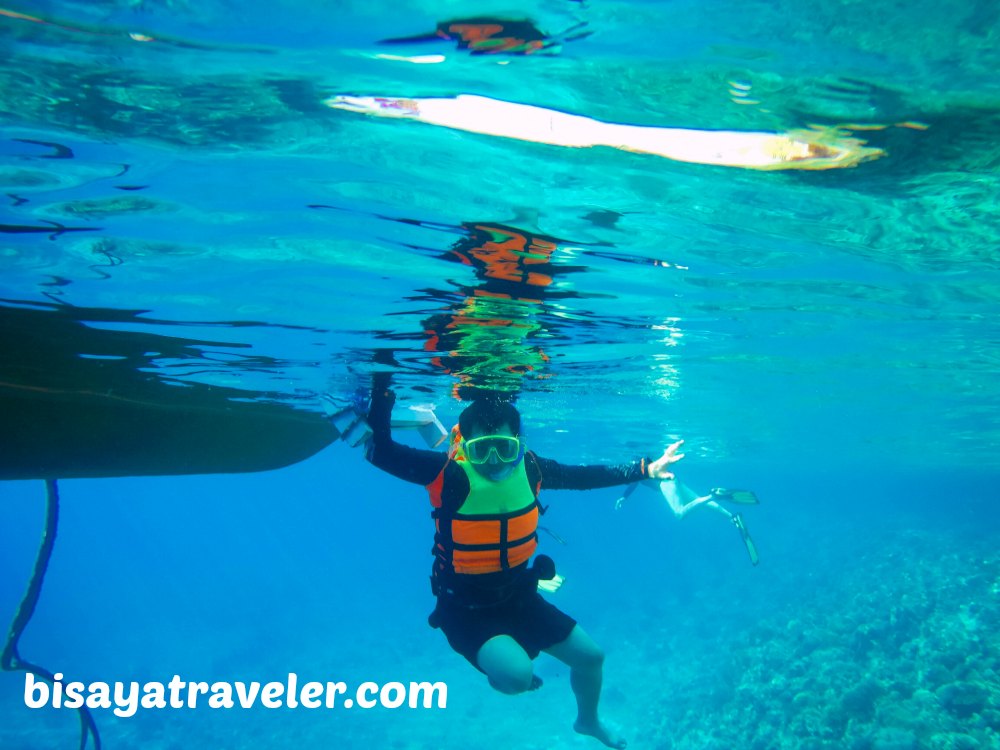 Minutes later, we swam our way to the island, and climbed it.  From there, we got a great view of our boat as well as Moalboal and Negros Island.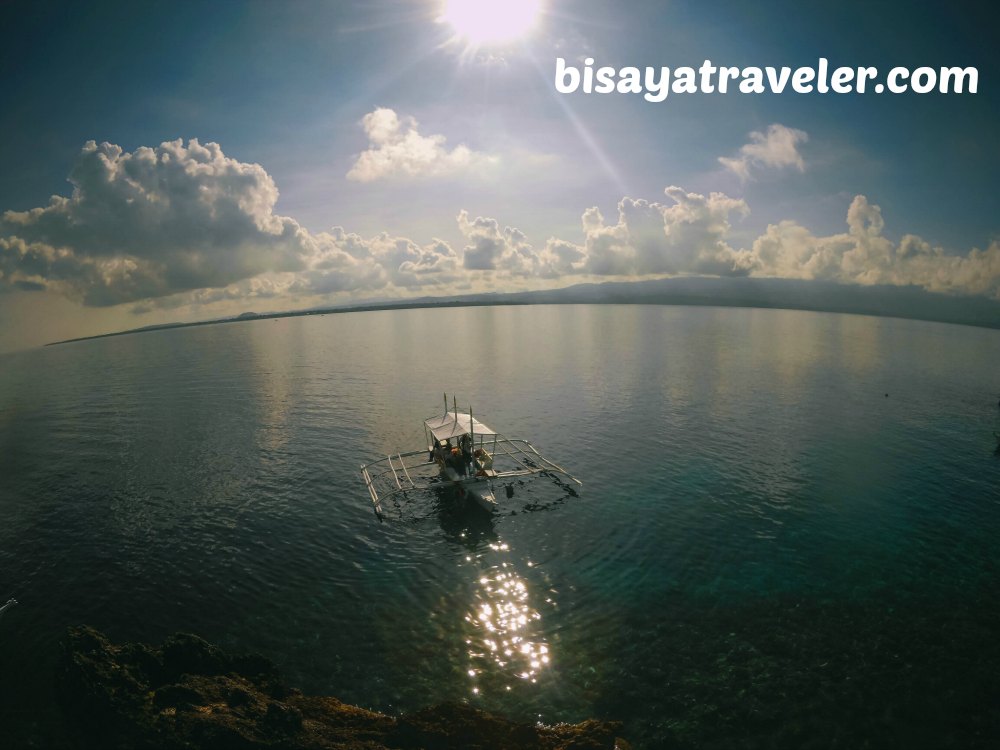 Together with our friendly guide, I, my wife and Phillip went for a walk around the island, in hopes of finding a plethora of sweet sights.
We strolled through a forested trail, passing by the island's lighthouse, until we reached the other side of Pescador Island.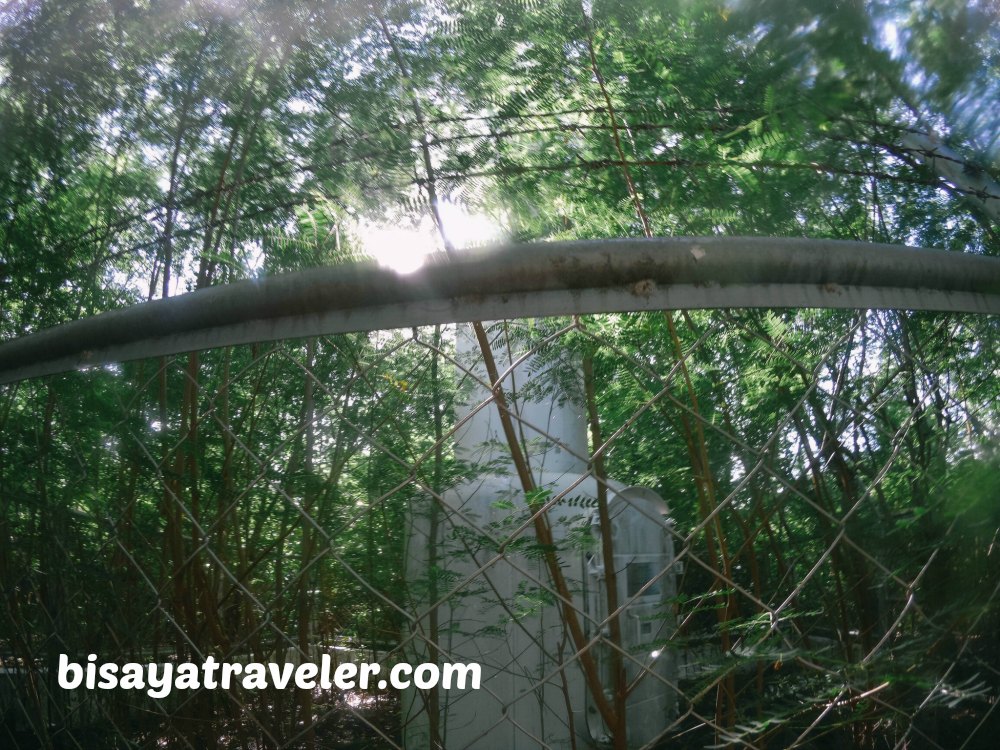 Personally, I think it's the best spot on the island for a photo-op.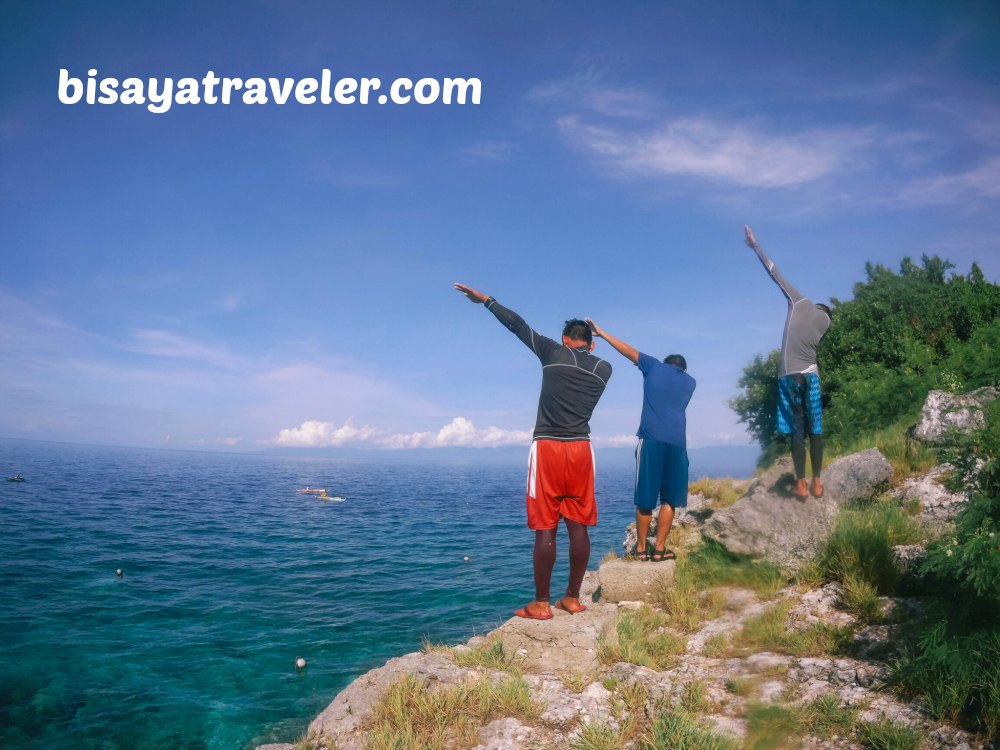 Intrigued and lured by the beauty of Pescador, Allan and Janelle later on followed us on the island.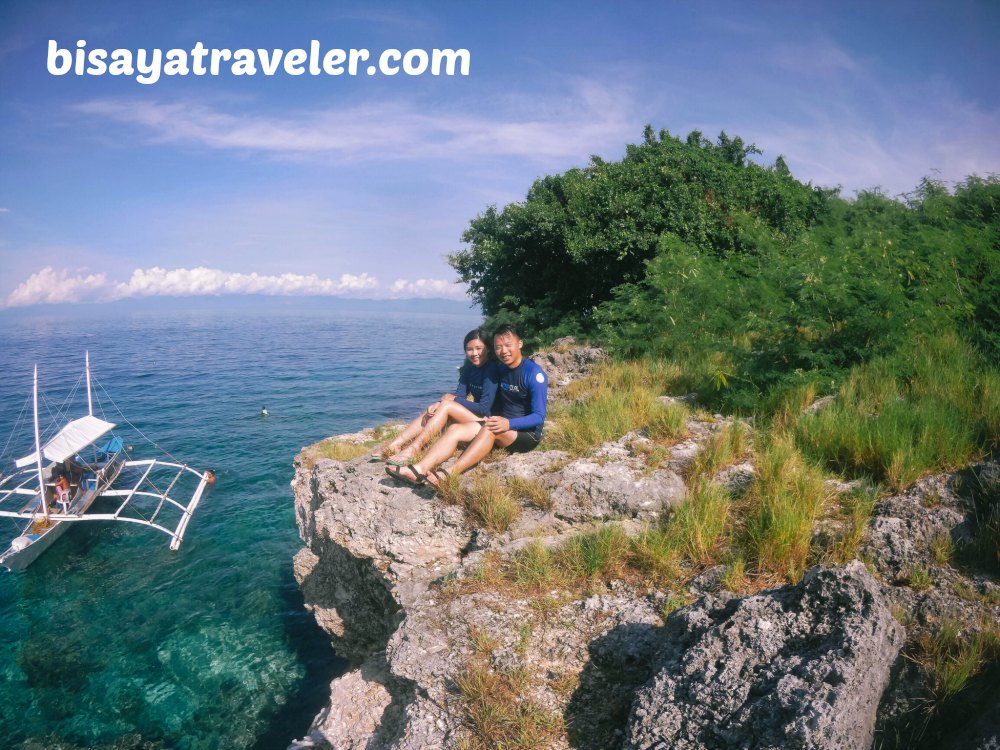 And, after spending some time submerging underwater and exploring the island, we headed to our next stop of our island hopping trip in Moalboal – the sardines run.
The moment we arrived in the area, I knew that our island hopping trip was, in a lot of ways, better than my Moalboal experience with Team Bang. For one, we finally got set foot on Pescador Island. Moreover, a sea turtle appeared next to our boat, freely and cheerily swimming with the walls of sardines.
With enthusiasm and excitement running through our veins, we dived into the deep waters of Panagsama Beach, to see the mesmerizing sardines run.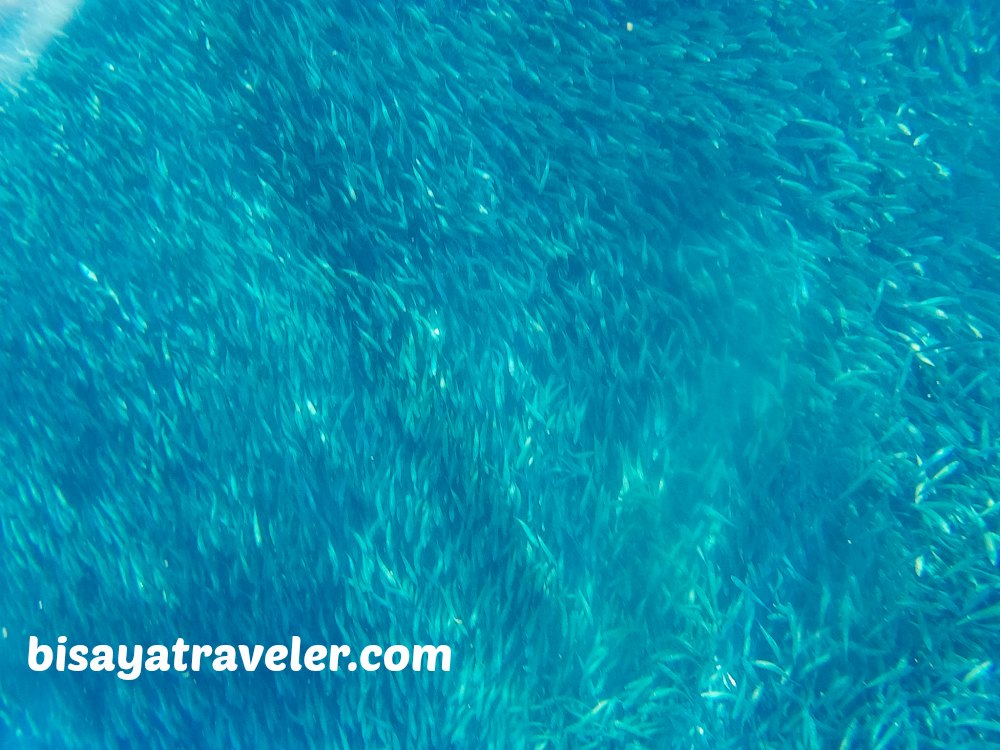 Honestly, the sardines run in Moalbaol is a sight that I'll never get tired of gazing. In my book, it's by far one of the best things to do in Cebu.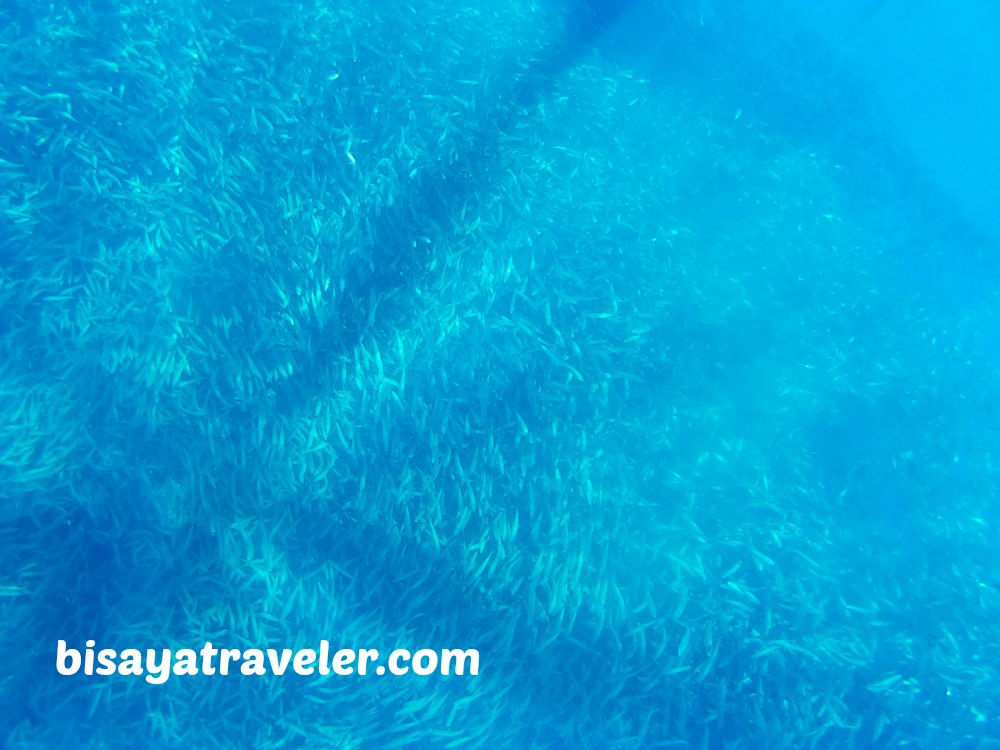 I'm not much of a swimmer, let alone a great diver, so I let our guide, Dexter, take on the photography duties.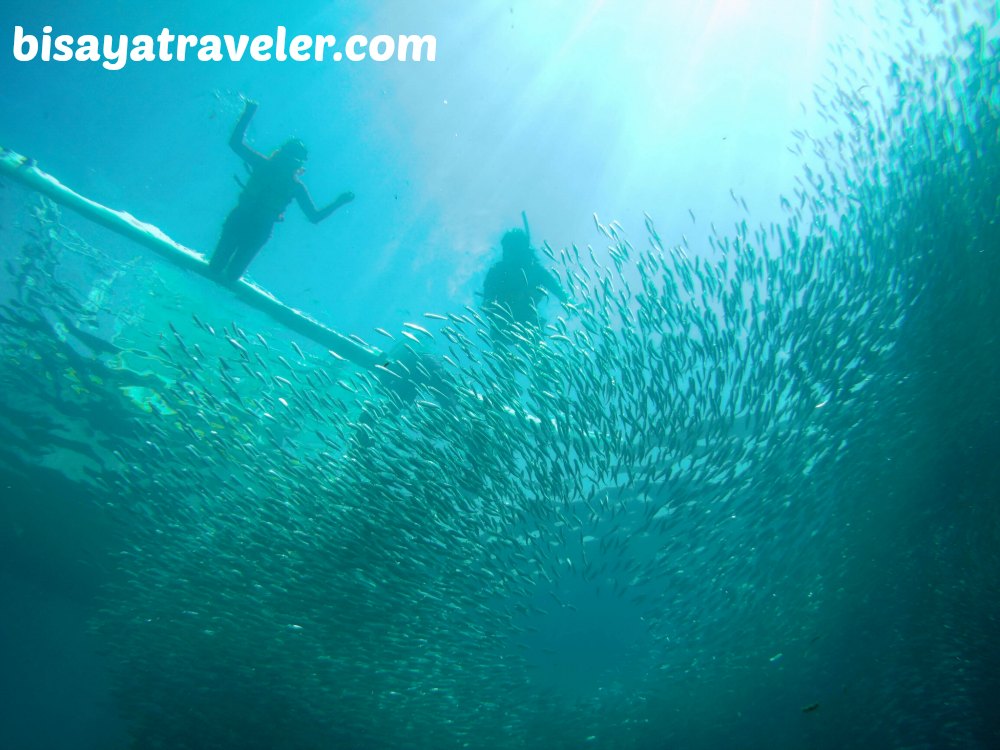 As far as I'm concerned, he did an extremely amazing job highlighting the beauty of Moalboal's sardines run.
He even submerged deep, just to get footage of the sardines as well as the sea turtle near our boat.
As you can see, this guy has some serious free diving skills. I don't know how long Dexter can hold his breath, but this guy is freakishly incredible. As a matter of fact, he even dived into the deeper parts of the sea, to retrieve my action camera, after it slipped through the hands of Phillip.
Yes folks, I almost lost my cheap yet reliable SJ400 camera, as were floating on the waters of Moalboal. Where was my action cam floater? Well, I was using it on my SJ6 Legend, which was at that time in the hands of Dexter.
We, then, left this part of Moalboal and moved on to the place where we can see the sea turtles.
Unlike my first island hopping experience with Team Bang, there were plenty of sea turtles roaming wondrously around the area.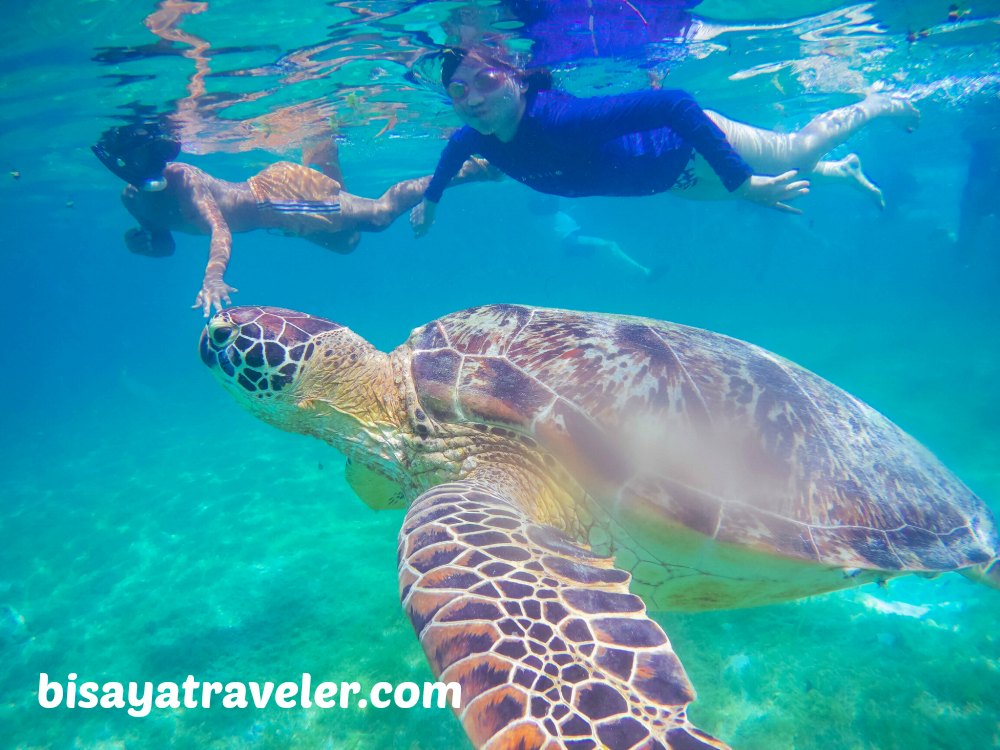 Although I'm not much of a swimmer, I was quite ecstatic swimming and snapping photos of these fabulous sea creatures.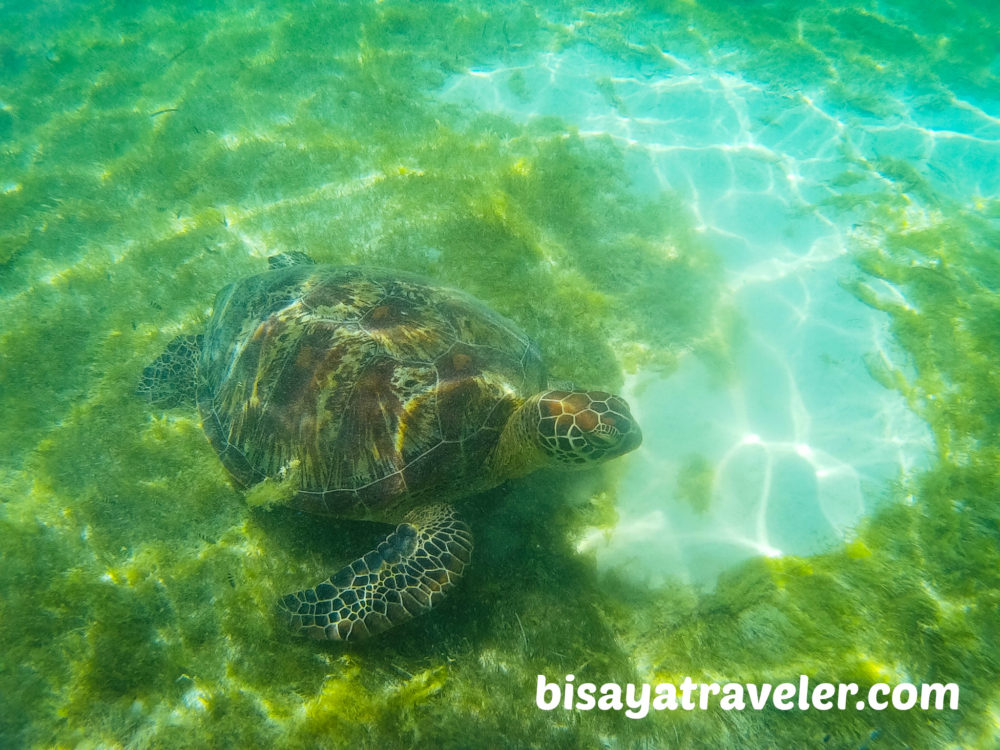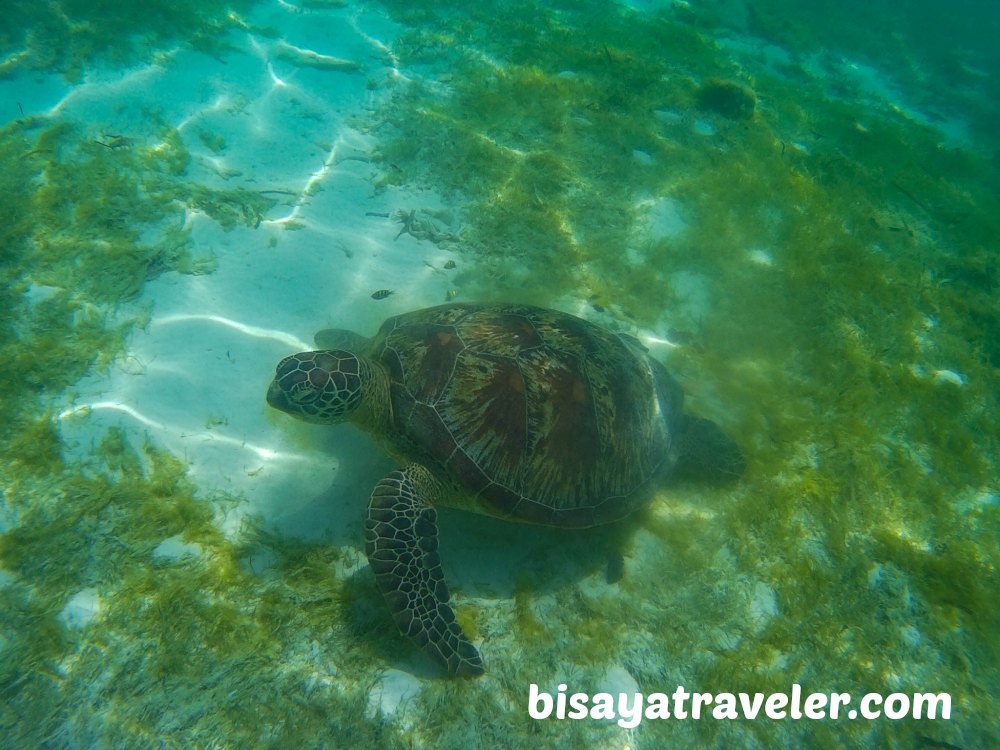 With our island hopping trip in the books, we went to Badian proper to grab lunch, and get some refreshments, amid the scorching tropical heat. Eventually, we left Badian, and departed for Osmeña Peak.
Prior to our trip, I thought the best route to Osmeña Peak from Moalboal is to go back to Carcar, and drive to Dalaguete via Natalio Bacalso National Highway. Little did I know, there was a shortcut from Alegria to Mantalungon proper.
And the road to Osmeña Peak from Alegria was pretty familiar. Along the way, we passed by a couple of waterfalls that I've visited earlier this year – Cancalanog And Cambais Falls.
After an hour and a half drive, we reached the foot of Cebu's most famous and Instagrammable peak – Osmeña Peak.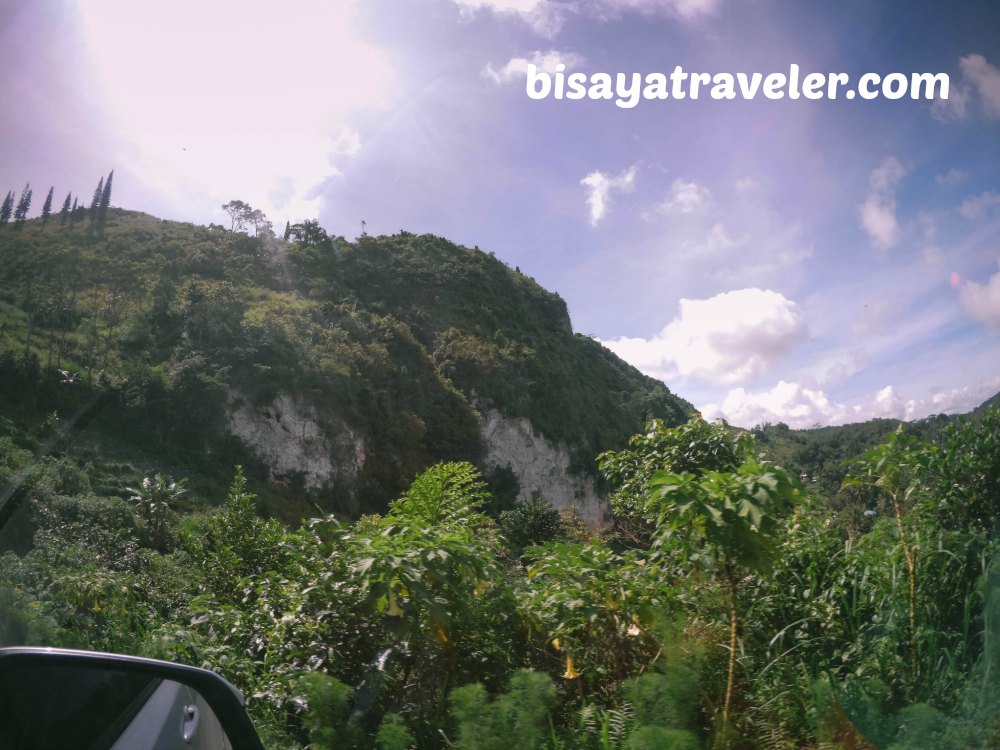 With a favorable weather, we began our hike to the summit, and made quick breaks, whenever someone gets tired. While Osmeña Peak is a fairly easy hike, we had to pause for a while, to help the newbies catch their breath.
As we were making our way to the top, we bumped into a few fellow travel bloggers and adventurers, namely Lai of Little Lai, Vanessa Rose, AJ of Wandering Soul Scamper, John Jay of Wandering Feet PH, James Arthur, RJ and Sean.  As I've learned later, these sprightly guys hiked one of my favorite peaks in South Cebu – Casino Peak.
Hopefully, I'll get a chance to see this crew once again in one of my future adventures.
Ultimately, we arrived at the peak, where we soaked up the awe-inspiring panoramas and breathed fresh mountain air.
I must say I'm impressed with the way how they reached Osmeña Peak, especially Tita Doris. As I've said, Osmeña Peak is arguably the easiest mountain to scale in Cebu, but these people have zero experience when it comes to hiking.
To capture the moments of our South Cebu trip, we took a bunch of photos of our travel buddies in various spots of Osmeña Peak.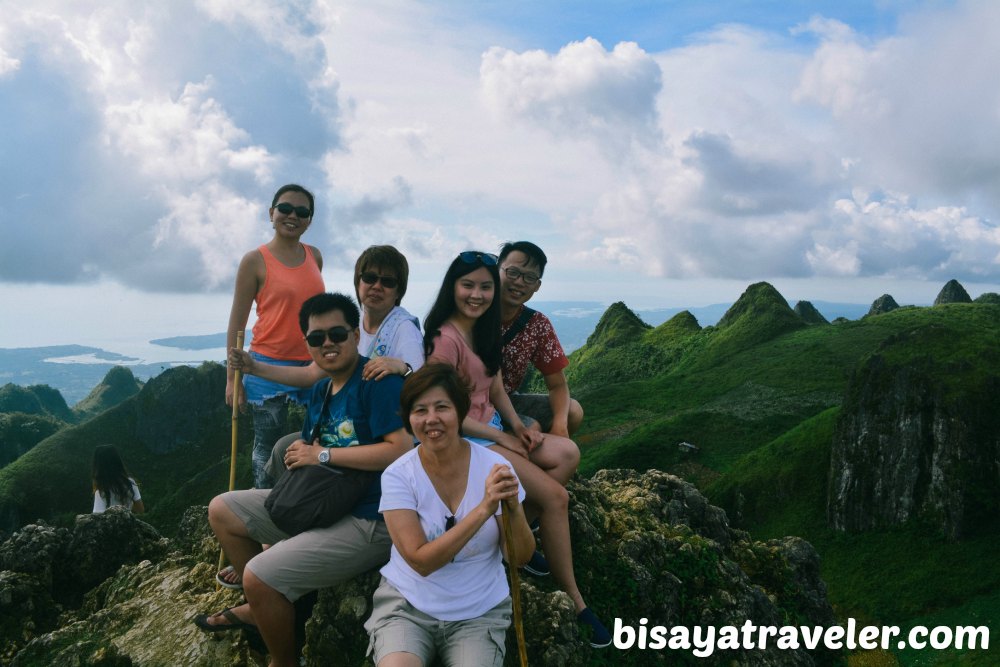 As for Phillip, we did his own version of the talikogenic blogger's pose.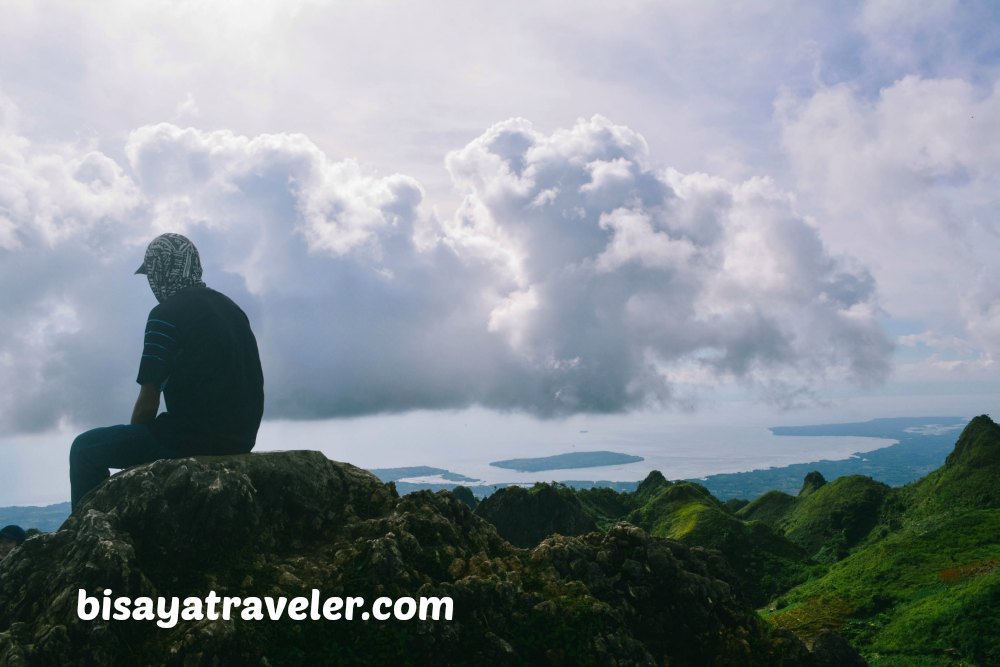 From my point of view, they all enjoyed the views on the summit in this side of South Cebu.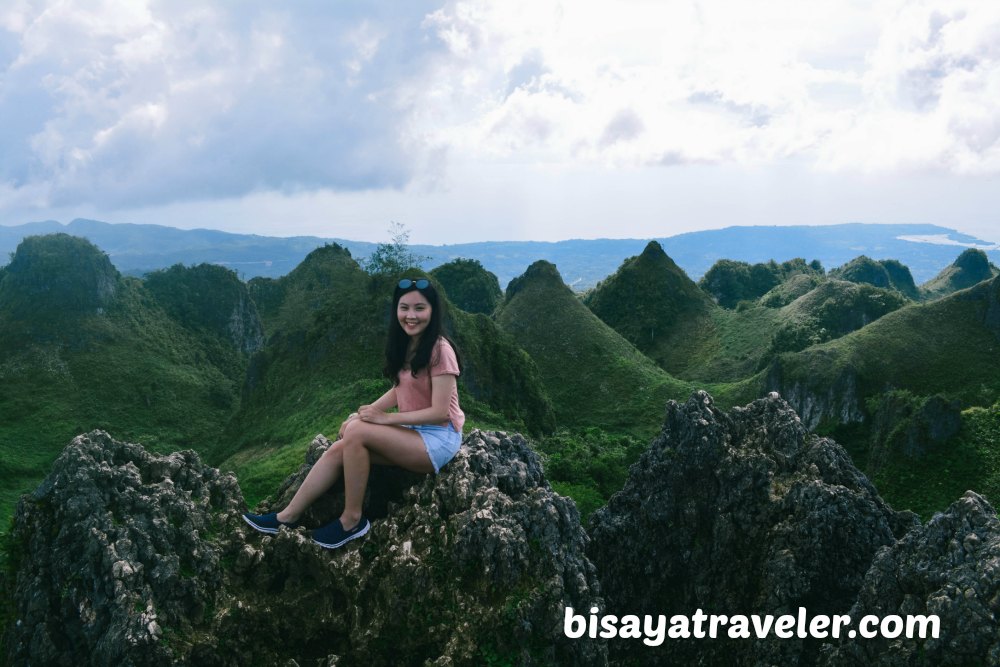 We returned to the base of Osmeña Peak, hopped on the van, and took a long ride back to Cebu City.
Before we headed home, though, we dropped by Parilya in SRP, to cap off our South Cebu trip with a sumptuous dinner.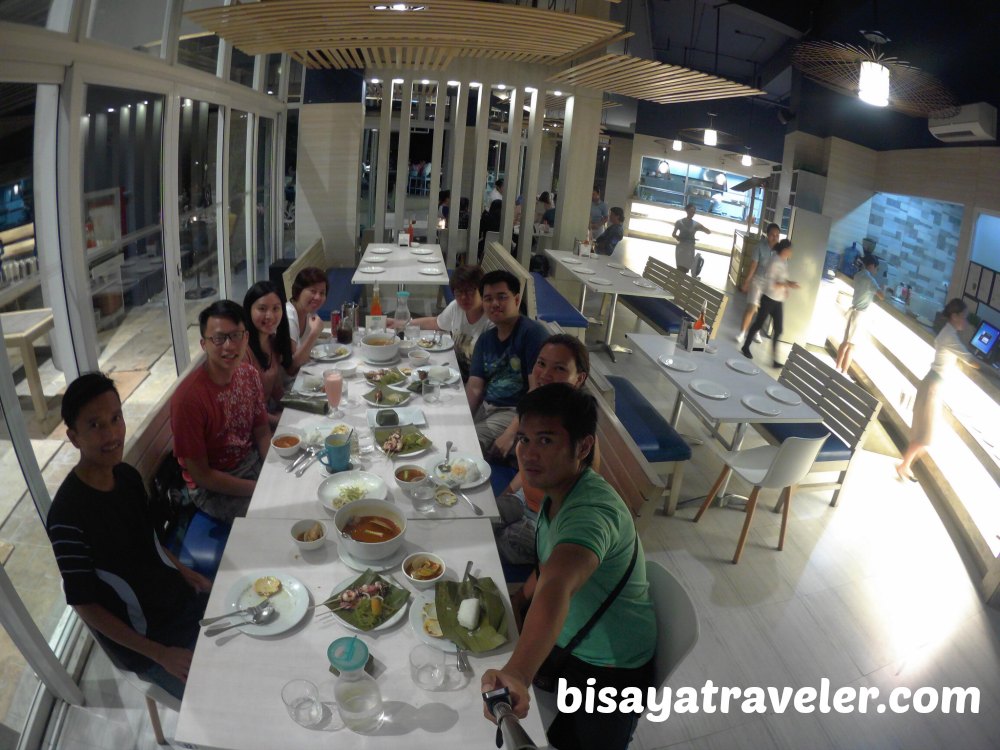 Not a bad way, to spend a weekend in South Cebu, right?
Our South Cebu itinerary
04:30 AM: Depart from Cebu City
05:30 AM: Stopover Jollibee Carcar
06:00 AM: Depart for Moalboal
07:30 AM: ETA Moalboal
08:00 AM: Start of island hopping tour in South Cebu
11:30 AM: End of trip/drive to Badian
12:00 PM: Lunch in Badian
12:30 PM: Depart for Osmeña Peak
02:00 PM: ETA foot of Osmeña Peak/start hike
02:45 PM: ETA summit of Osmeña Peak
03:30 PM: Start descend
04:00 PM: ETA foot of Osmeña Peak/buy vegetables
04:30 PM: Depart for Cebu City
08:30 PM: Dinner at Parilya
10:00 PM: Home sweet home
Important notes:
To avail this tour, reach out to Phillip through their Facebook page.
For DIY travelers, you may check out my previous Pescador Island
To maximize your trip, visit Moalboal, when the tide is high.
Make sure to bring snacks and food.
Don't be a douchebag. Be a responsible traveler by practicing the LEAVE NO TRACE principles.