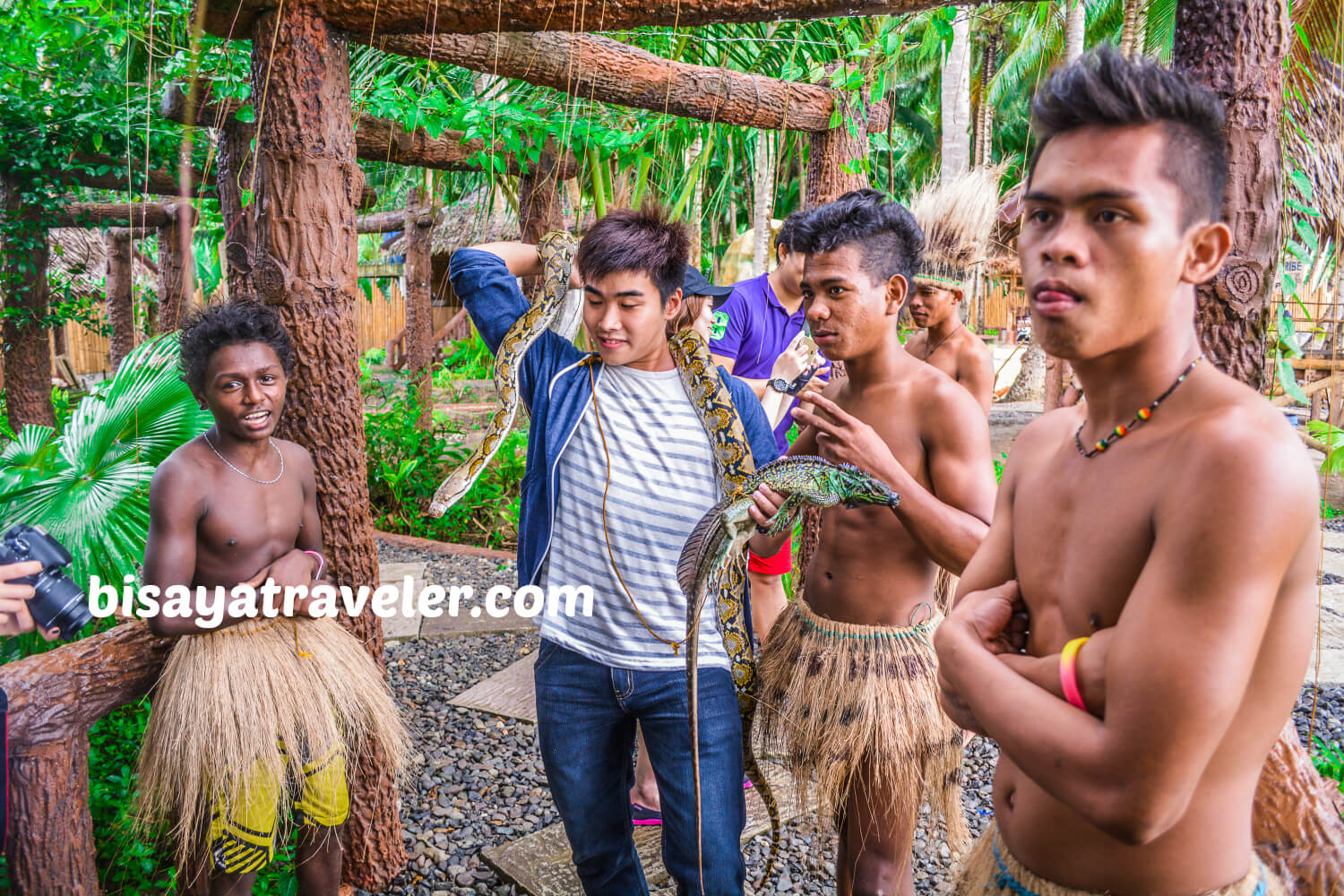 Loay River Cruise: A One-of-a-kind Culinary Adventure In Bohol
The Loay River Cruise has got to be one most fascinating and unforgettable surprises in our most recent Bohol getaway. Full of classic Filipino dishes and beautiful sights, the cruise literally appeased our grumbling stomach as well as treated us to a melodious serenade and scenic views of the river. What's more, the tour introduced us to a sprightly ethnic group who welcomed us with their genuine smiles, exotic pets and infectious positive energy.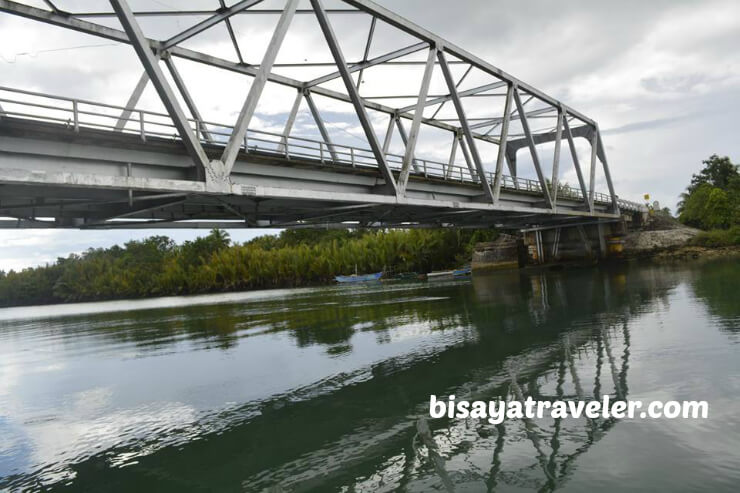 The first half of our countryside road trip in Bohol was nothing short of amazing. It started on a high note with a visit to one of the country's most iconic sights – the Chocolate Hills. Then, it was followed by a heart-pumping sky bike ride, and stops to other notable sights in the island-province, including the Bamboo hanging bridge and the man-made forest. And after all those thrills and delights, my mind and body began to generate strong cravings for filling goodies. Thankfully, though, the Loay River Cruise, with its eat-all-you-can buffet, satiated our gastronomic urges.
Honestly, I didn't know much about the cruise prior to our trip. I've been to Bohol on a number of occasions, but I've never experienced it, until last year. And with the tour's first half closing in, I thought we were going to Loboc River, to experience the quintessential river cruise.
But, my girlfriend, who did quite an impressive job planning our trip, had a different idea in mind. And I must say I was utterly pleased that she did opt to go with Loay over Loboc.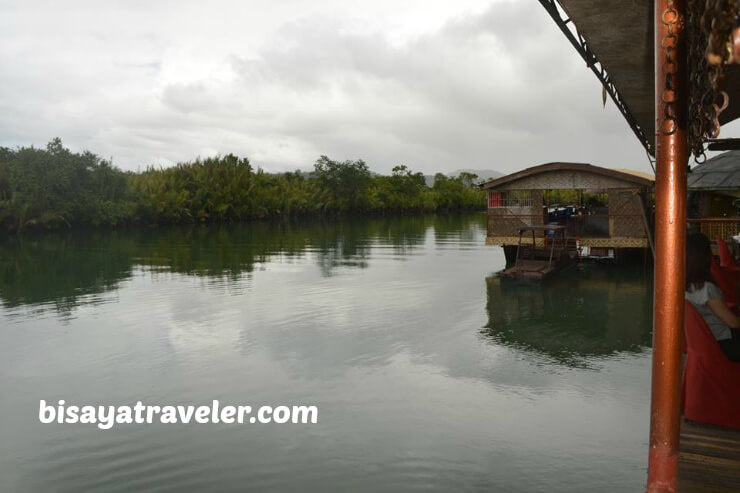 We arrived at the site – Rio Verde Floating Resort – an hour past lunchtime, meaning I was really eager to munch a ton of food. At the reception area, we were offered two options for our river cruise – the high end buffet and regular buffet. We took the regular ride since it was the cheaper option.
Once the bills were settled, we wasted no time, and boarded our designated floating restaurant. Without any hesitation, we grabbed our plates and filled with it a variety of dishes, including ginataan langka, pork barbecue, buttered chicken and pancit special. Afterwards, I culminated my lunch with tropical fruits and a tasty serving of Bibingka special.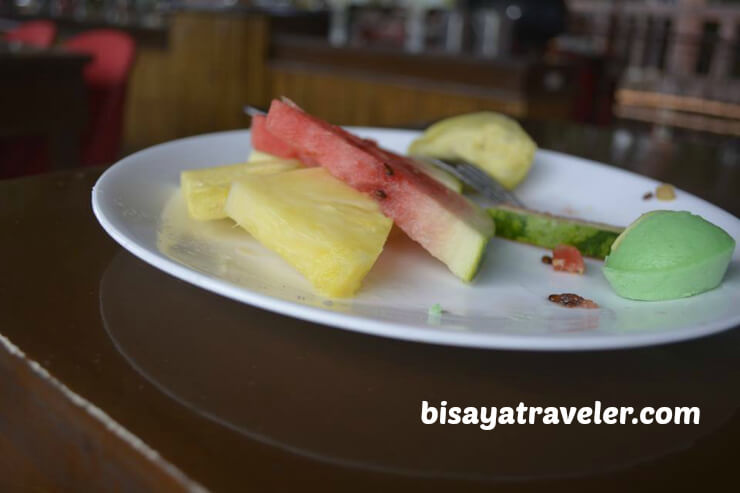 The boat-restaurant was still tied on dock, when we completed our meal, giving us a chance to talk about the crazily fun bike ride at the Chocolate Hills Adventure Park. A few minutes later, the boat began to sail on the calm and emerald river. While the boat was cruising gently , the folk singer serenaded us and a bunch of Korean tourists with a medley of pop and traditional Visayan songs.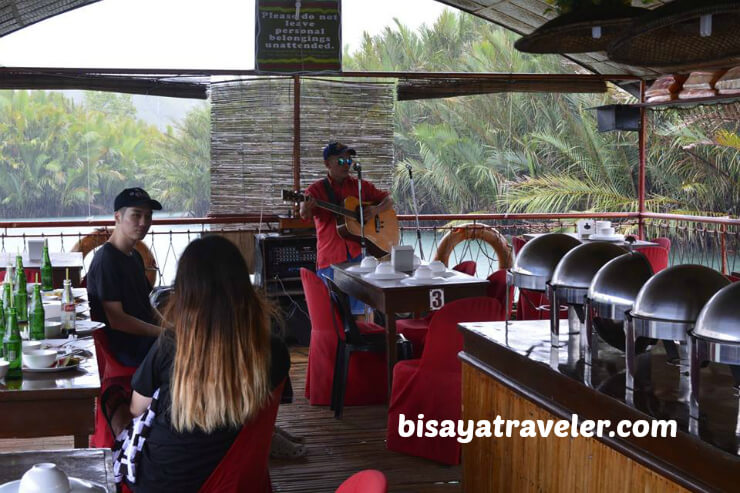 Even though it was raining, I still had a swell time enjoying the verdant landscapes surrounding Loboc River. From sea palms and mangroves to breathtaking limestone cliffs, there was always a mesmerizing sight at every turn in this cruise ride. And unlike the Loboc river cruise, the waterway isn't crowded with people, and is pretty clean and pristine. In short, the cruise was such as relaxing and scenic experience.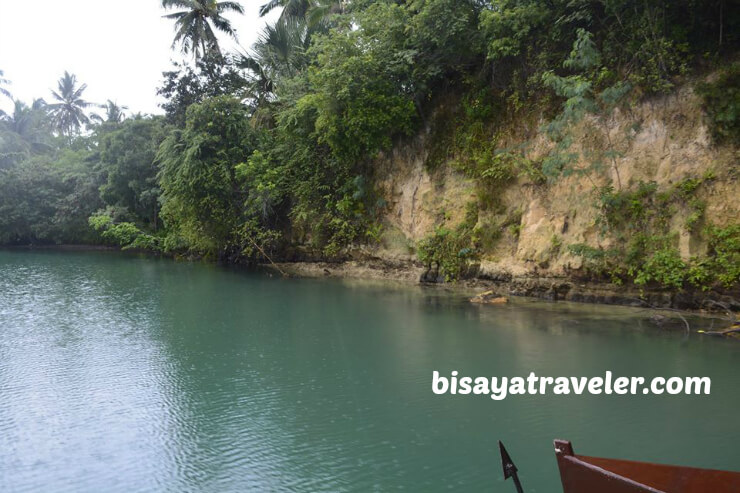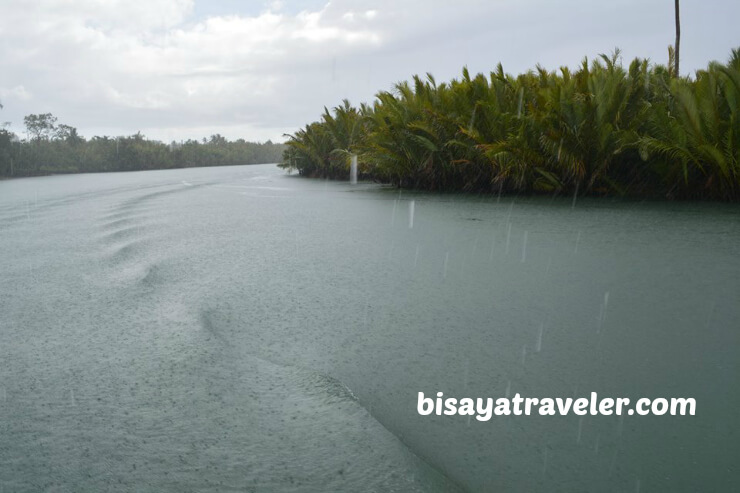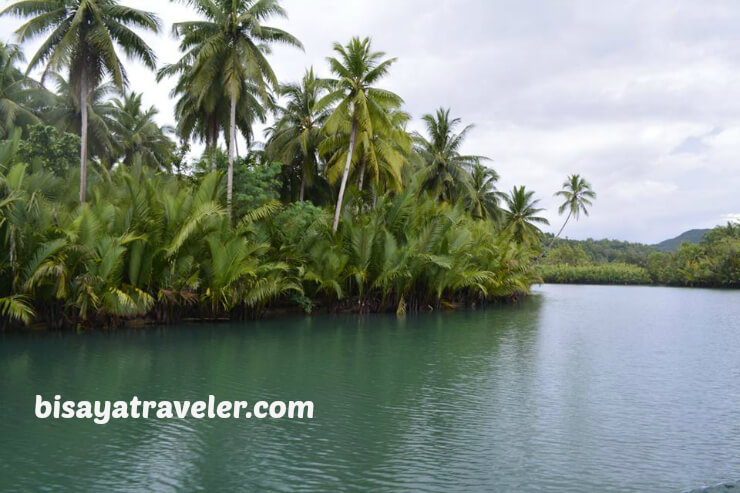 After a few minutes of cruising, the downpour finally stopped, and our floating restaurant steered on river's left side, to dock on a small village. I thought the tour was over, or the barge was about to pick up a set of guests. But, my girlfriend asked me and my buddy Rechie, to follow her into the village with an "Ati Tribe" label on its entrance.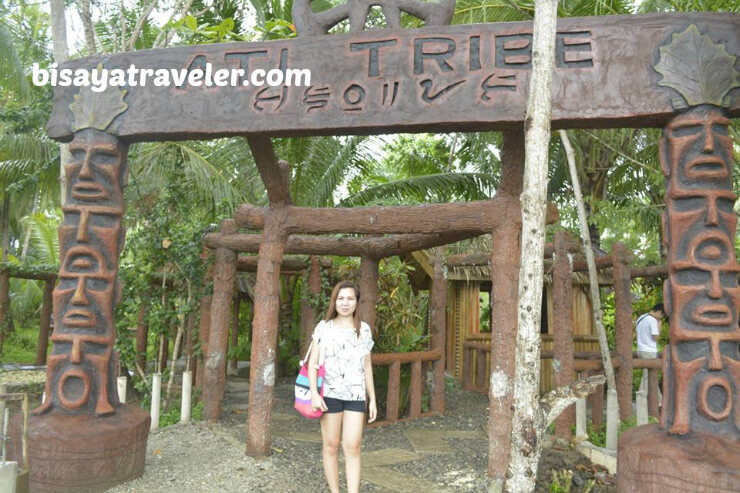 As we stepped into the village, a familiar drumbeat instantly greeted my ears. It was a sound of a band with tribal beats and complex drum patterns. Actually, it reminded me of the streets of Cebu during the vivid and colorful Sinulog Day Grand parade.
A couple of seconds later, a group of young tribesmen from the Ati Tribe gave us a warm welcome with their cheerful smiles and rather exotic pets. While others were terrified of their pets, I went near these creatures to touch them and even embrace them, as I'm no stranger to these kinds of animals.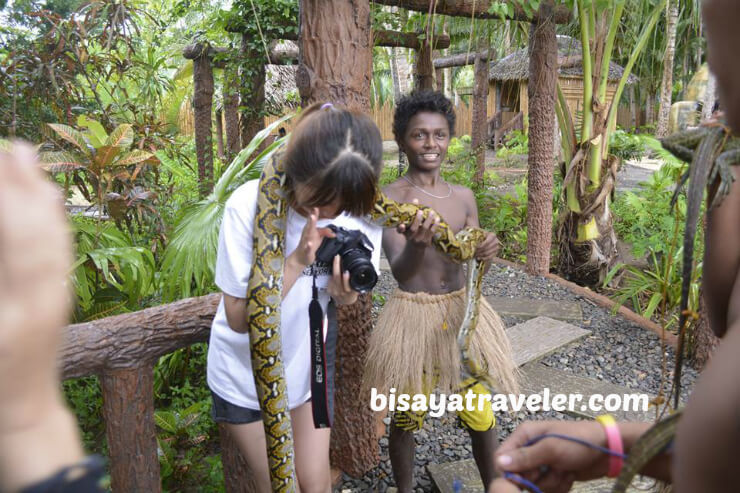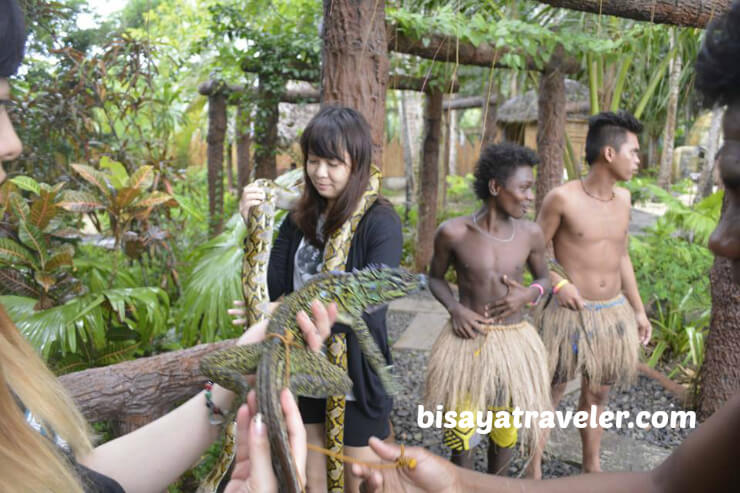 Together with my partner and Rechie, we strolled around the village, and took pictures of its traditional huts, statues and interesting displays. I know everything here is fabricated, but it really has a very tribal and traditional feel to it.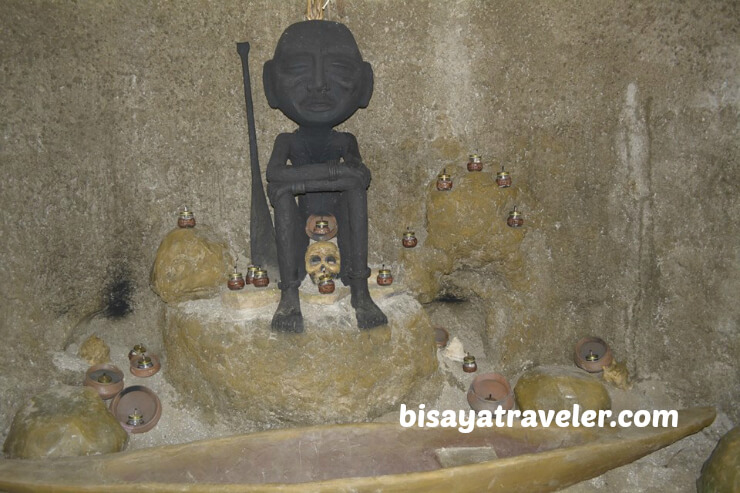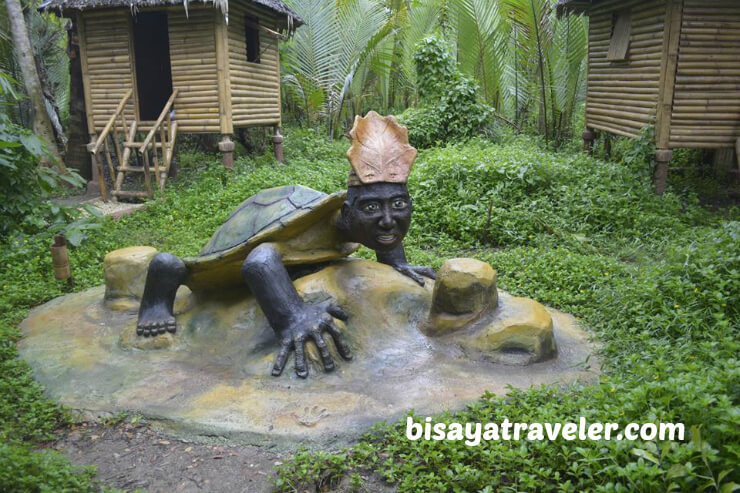 I went to the group playing the drums, and as a former band member, I was impressive with their skills. As I went closer, the guy on the left side asked me, in Visayan words, if I was interested in playing the drums. Of course, I didn't let the opportunity pass by to experience a jamming session with these people.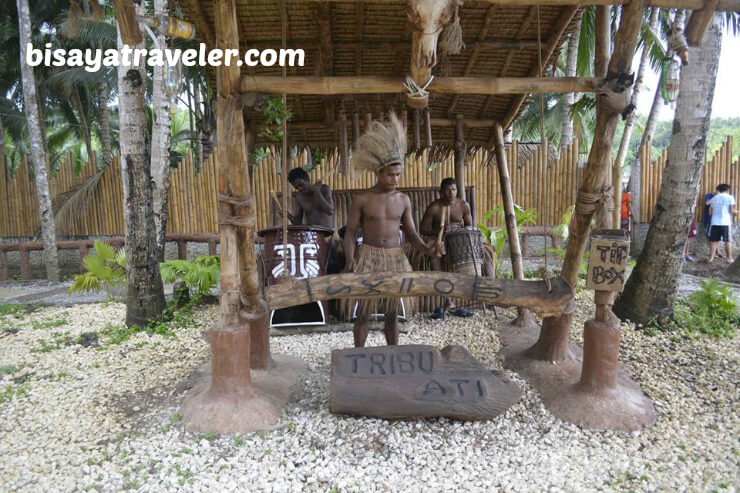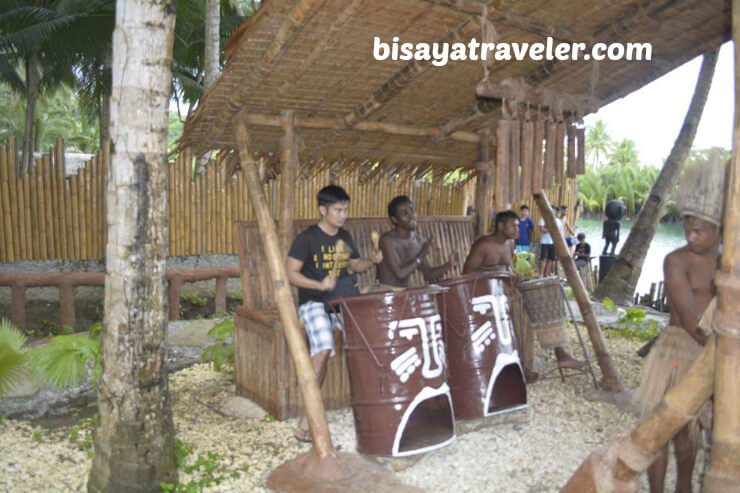 And by the way, there are also refreshments, souvenirs as well as photo ops with kids and their wooden arrows in the "Ati Tribe" village, to make things more fun and memorable.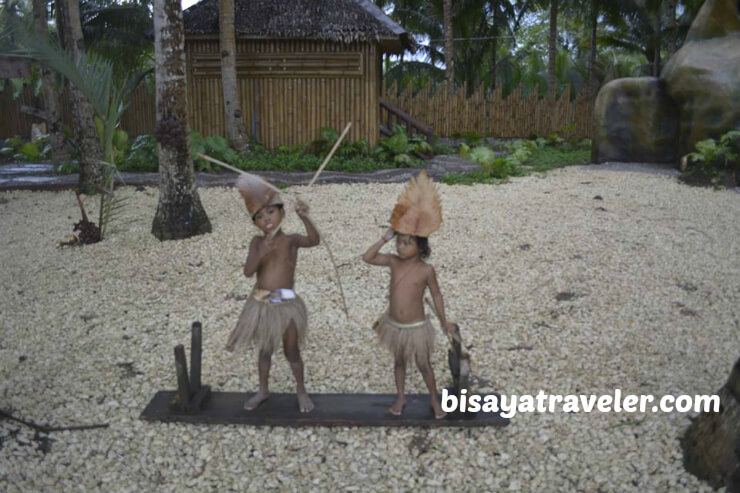 After spending 30 minutes in the village, we went back to our barge with big grins on our faces, to return to the jump-off point.
My overall thoughts on Loay River Cruise
The Loay River Cruise is, as far as I'm concerned, a can't-miss experience for anyone visiting Bohol. As a matter of fact, I think the Loay River Cruise is a lot better than its Loboc counterpart. The food isn't exactly that great, but it's hearty and can definitely fill an empty stomach. Plus, it's super serene, relaxing, as well as offers astounding views of the river and its lush vegetation. To top it all off, it gives you an opportunity to explore the Ati Tribe village, and rub shoulders with its extraordinary dwellers.
Prices for the Loay River Cruise
High-end buffet
Children: 260 PHP per head (4 to 6 years old)
Adult: 500 PHP per head
Regular buffet:
Children: 206 PHP per head (4 to 6 years old)
Adults: 393 PHP per head
Prices may have changed since my last visit, so it's best to contact Rio Verde Floating Resto for more information about their rates. As for the countryside tour, reach out to Tickets To Ride, and book your Bohol trip with them.