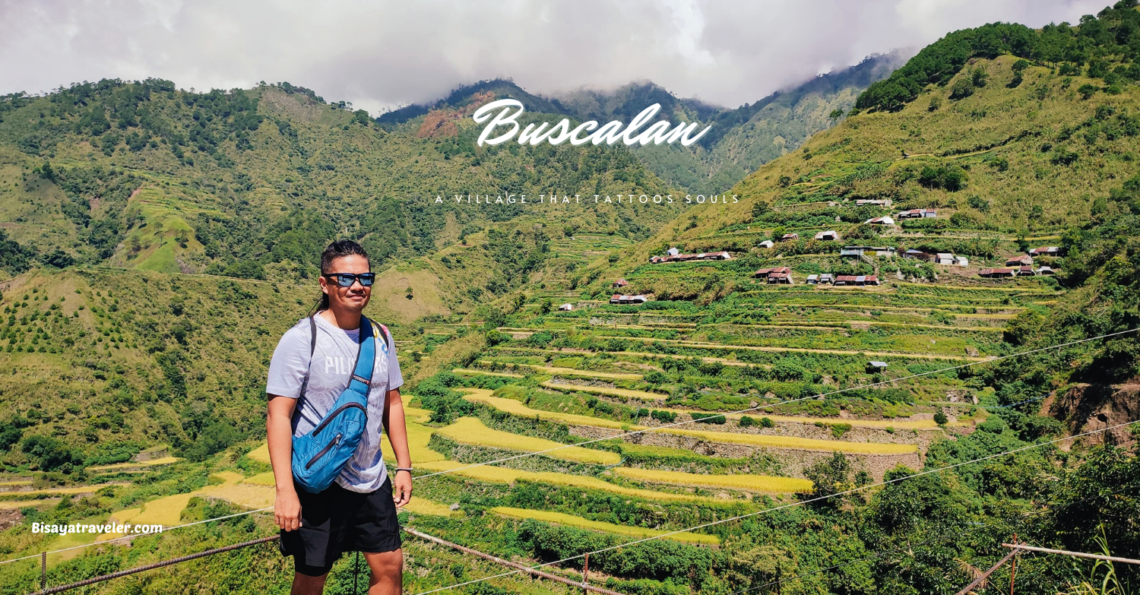 Buscalan: A Village that Tattoos Souls
Peter Pan was right. Growing up is a trap. I mean. Who wants to live in a world with an endless cycle of workload, bills, stress, taxes, and responsibilities? Who wants to be in a world full of rude people? And why can't we live a peaceful and simple life like the Butbut Tribe in Buscalan, Kalinga?
Here's the thing.
We are a generation of constantly dissatisfied, overstressed, and overworked people.
Despite our drive, can-do attitude, and modern technology, we are overwhelmed, anxious, and exhausted.
We live in an era where people kill themselves with productivity.
We spend hours in long commutes and drives to work.
And we work feverishly even on weekends and aim to reach a bar that keeps rising higher.
But guess what?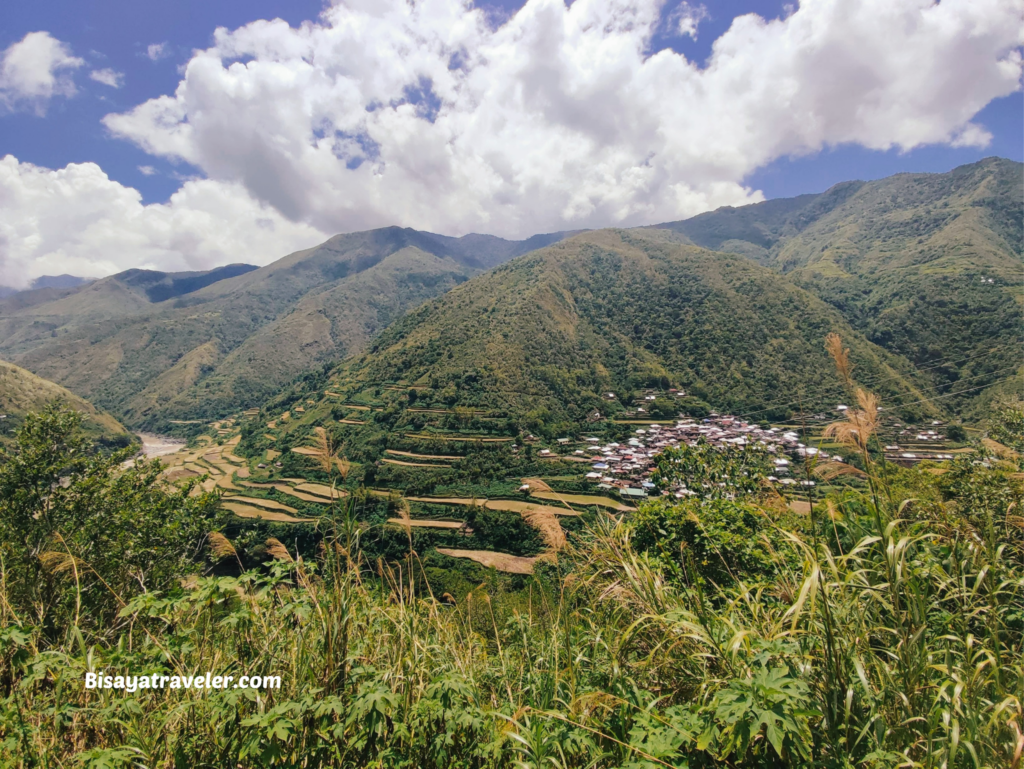 There's a silver lining amid life's chaos.
The reality is adult life can still be a blur of excitement and joy.
Just spend some time sprinkling it into your life.
Don't blindly follow the society.
Don't let pain and trauma turn you into a bitter adult.
And more importantly, don't lose your sense of wonder and curiosity.
That's why I joined a Mount Amuyao and Buscalan tour with several friends from Cebu.
From getting inked to postcard-worthy sunrises, it was a journey filled with fun and blissful moments.
And it was a rare opportunity to discover the Butbut tribe and see the iconic Maria Oggay.
My Buscalan, Kalinga experience
05:17 PM: The landslide
Nothing beats the feeling of conquering a challenging and steep mountain.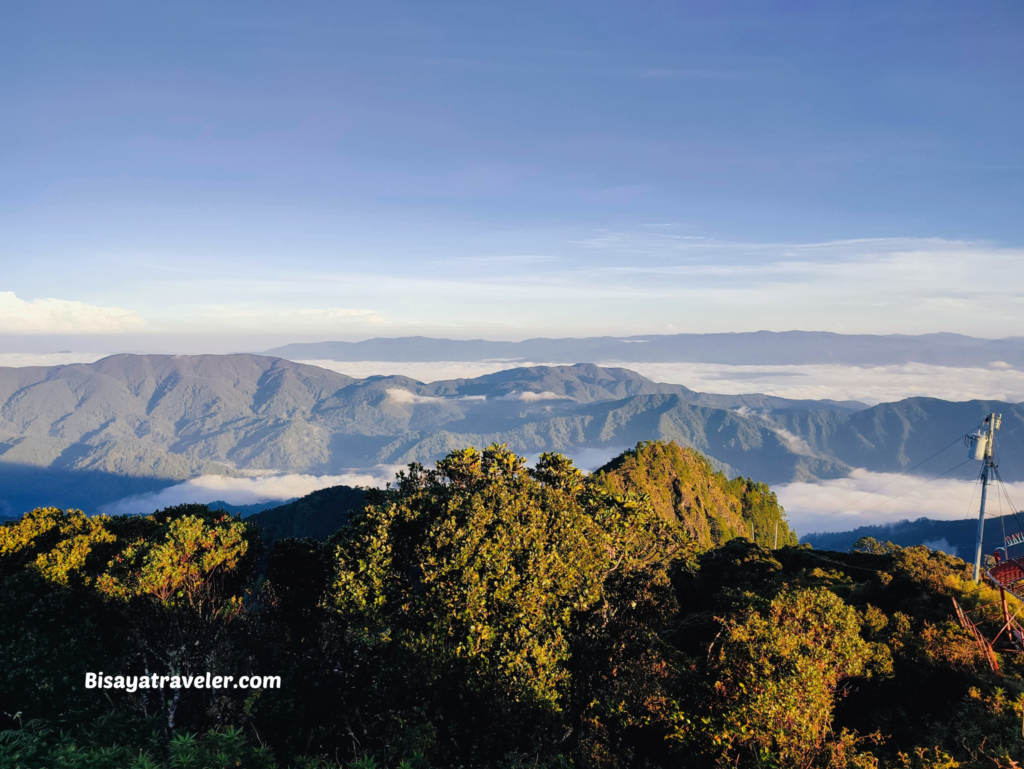 Fresh from a backbreaking hike in Mount Amuyao, we were all smiles as we made our way to the next stop of our Luzon adventure.
With a positive mood, the van was filled with stories of the mountain's unlimited stairs.
Soon, almost everyone dozed off.
It was a rainy and chilly afternoon, and everything seemed perfect and on time.
That was until we bumped into a hiccup.
After a few twists and turns, our van stopped and waited for the vehicle in front of us to move.
Nothing happened for about 10 minutes.
Everyone woke up and noticed the idleness.
We didn't get any information on what was causing the traffic.
But I had a hunch what happened.
A landslide.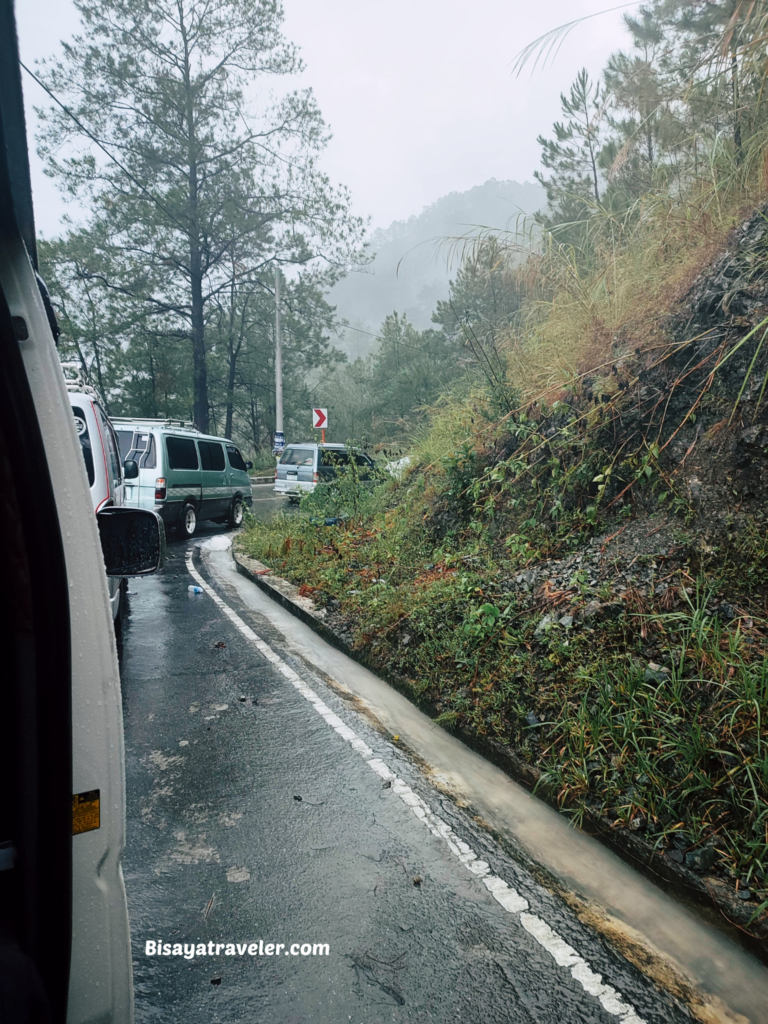 Outside the window, I saw soil movement caused by the persistent rain.
Sir Greg and Sir Bojec, our organizer, ultimately stepped outside to investigate the cause of the traffic.
And I was right.
It was a landslide.
Surprisingly, though, it didn't affect our mood.
Instead of complaining, we cracked jokes, ate our trail food, and shared stories of our hikes in the highest mountains in the Philippines.
And somehow, this reminded me of a classic lesson in Stoicism: don't focus on things you can't control.
There's no point in wasting energy and time on things we can't control.
Can we control the weather to prevent landslides?
Can we stop the rain in the snap of a finger?
Heck no.
But we can control how we respond to these things.
And how do you respond to situations like this?
Do you panic, worry or complain like a bitch or a Karen?
Or do you chill and make the most out of this situation?
Around 5:50 PM: The drive to Buscalan
Thankfully, the local government quickly fixed the problem.
We then resumed our trip to Buscalan, following the winding roads of north-central Luzon.
And the drive isn't for the faint of heart.
Along the way, we saw masses of debris, mud, and rock from recent landslides.
There were also steep drops, flooded streets, and even cows blocking our way.
And did I mention there were no streetlights?
At times like this, I always remember the voices of people saying what I'm doing is risky.
I get it.
There are a hundred ways to die in the mountains and in the unchartered territories.
Heat exhaustion, falling from cliffs, hypothermia, dehydration, and landslides are some of the deadly killers in the mountains.
But you know what's more dangerous than hiking and travel?
Sitting at your working desk for over 8 hours a day.
Sure, long hours working in front of the computer mean quicker promotions and more money.
But at what cost?
The thing is, lack of sleep and stress are silent killers.
They sneak up on you and lead to serious health problems.
They cause heart attacks, high blood pressure, strokes, and malnourishment.
And how can I forget the effects of overworking on mental health?
Ah, mental health.
The reason I joined this Mount Amuyao and Buscalan tour.
Overworking can lead to burnout.
And burnout can lead to a variety of problems, including emotional exhaustion, depression, and anxiety.
So, a word of advice to anyone who's reading this, spend more time pursuing your passion and less time in front of your computer.
I'd rather spend my hard-earned money on doing risky things I love than on hospital bills. 
And I'll never let my well-being take a backseat to any job.
Around 8:30 PM: The climb to Buscalan Village
After hours of crossing streams and huge debris, we finally arrived at the drop-off point in Buscalan, Kalinga.
It was late, and the rain was getting stronger.
Moreover, we had to take another steep flight of stairs to reach our homestay in Buscalan.
Yes, stairs.
Apparently, the Universe wanted us to take on more stairways, following the endless stairs in Mount Amuyao.
Still, we were up to the challenge.
Equipped with headlamps, we followed our Buscalan tour guide, who was about to lead us to our homestay.
We hiked downhill on a rocky and mildly slippery trail.
Afterward, we crossed a footbridge and began our climb to Buscalan.
Then, the uphill hike began.
Stairs, stairs, and more stairs.
We did cross another footbridge.
But after that?
More stairs.
We did take breaks to catch our breath and relax our legs.
Soon after, we arrived at an empty house where we took a break.
And breaks are crucial in everyone's life.
At work, we all need a breather from a to-do list that doesn't get shorter.
For adults with jobs, breaks are a form of self-care and self-love.
You might think you're strong and invincible, but burnout hits everyone.
And it's not pretty.
It affects your performance and makes you resent a job you once loved.
Taking time to recharge isn't really slacking.
It's smart and the best way to be effective.
So, take a vacation, give yourself a chance to breathe, and don't feel guilty about it.
Eventually, we arrived at our homestay, where we had a hearty dinner and took showers.
11:10 PM: Homestay in Buscalan
Waves of laughter echoed in the hallway of our homestay in Buscalan.
Even though the trip and hikes were tiring, we still had enough energy for some socials.
And one of the things I love about traveling and hiking is the face-to-face human interactions.
No Zoom and Skype calls.
No group messages.
Just the pure and old-fashioned way of connecting with others.
In my book, real human interactions are a treasure trove of insights and wisdom.
It's like free therapy and lessons about the outdoors but without the PowerPoint slides and props.
And the best part of it is that you'll feel lighter after these social interactions.
As science suggests, social interactions spark the release of endorphins – our body's natural mood lifters.
It's like having an injection of happiness without prescriptions.
But there's a curfew in Buscalan, meaning we had to cut our socials short and head to bed.
Nevertheless, our short interaction gave us a dose of happiness.
05:30 AM: The Buscalan sunrise
Sunrises are a perk of traveling and hiking.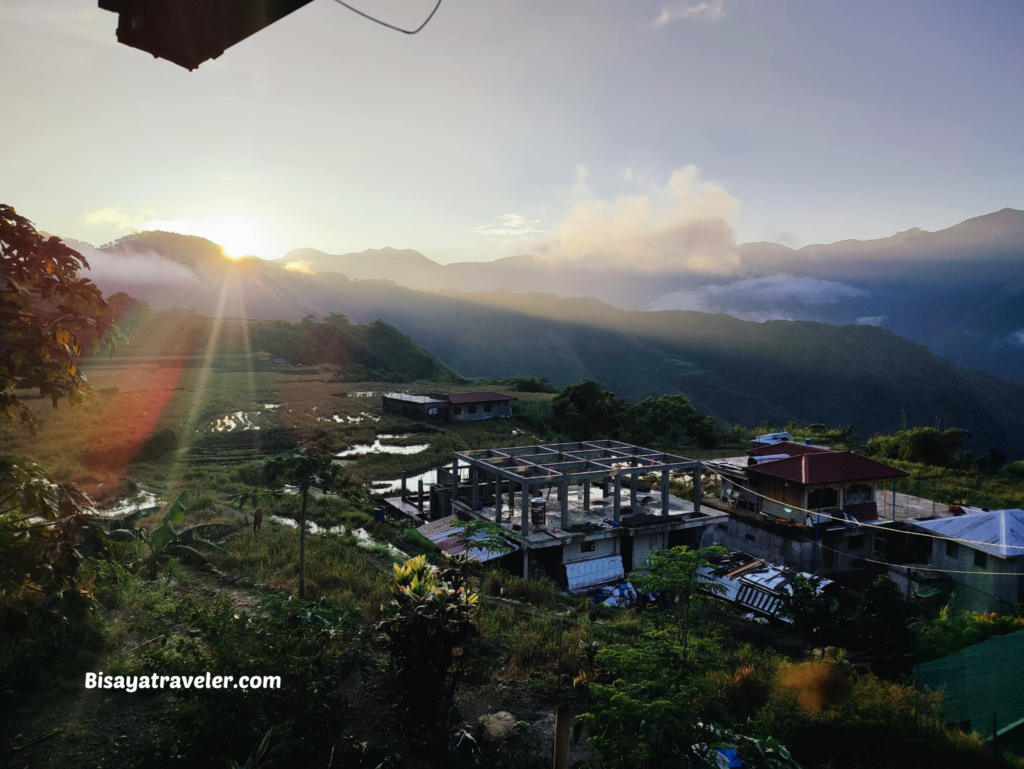 While it's free and nearly present every day, some of us don't have the time, energy, and opportunity to witness its beauty at home.
So, I spent minutes on the balcony, being mindful and soaking in the moment while admiring the sun rising.
The quiet and calm setting of Buscalan and the therapeutic sunrise made it the perfect time for mindfulness.
And the serene atmosphere was also stress relieving.
It was like Neverland.
It was a dose of tranquility that set a positive tone for the rest of the day.
Soon, the rest of the team went to the balcony to chat and enjoy the views of the rising sun.
06:39 AM: Exploring the rice terraces
Life isn't living.
It's surviving.
It's paying the bills and following a mundane daily routine.
That's how our society has programmed us.
And the world is hell-bent on imposing this mindset.
In a way, traveling to places like Buscalan is a rebellion against this idea.
In a world obsessed with efficiency and productivity, taking some time off to travel is a rebellious act.
You're declaring that your happiness and personal growth are not afterthoughts.
They are priorities.
Taking some off screams that your happiness and well-being are more important than any meeting and deadline.
You're reclaiming time, and that's a bold move and a powerful statement.
And like any rebels to the societal norms, we decided to experience life and create memories on our time off.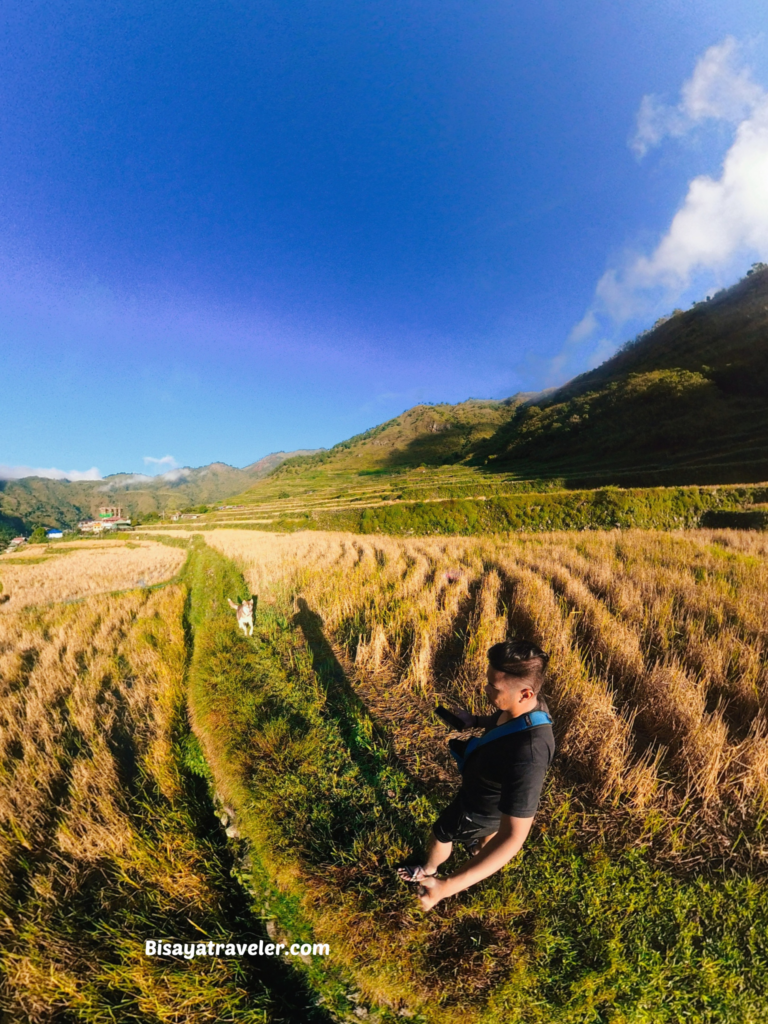 We roamed around the rice paddies, savoring the views, lush scenery, and majestic creations.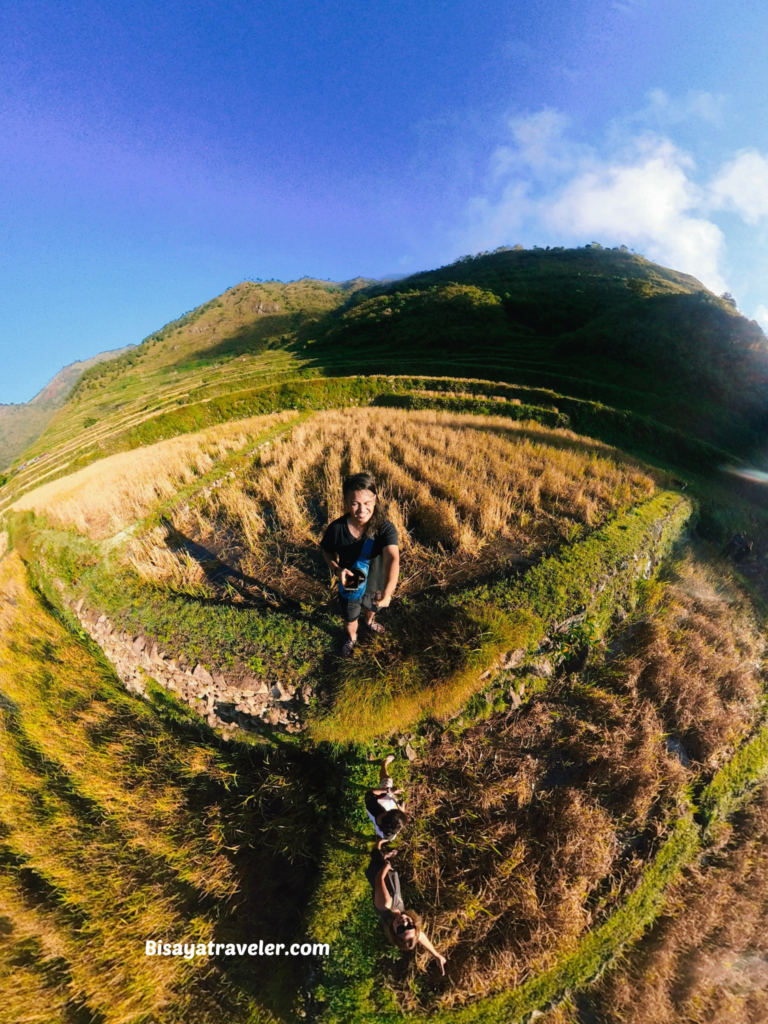 As a bonus, we met a couple of friendly dogs whom we called Shopee and Lazada.
08:05 PM: Homestay
Life is short, the world is wide, and the clock is ticking.
And I don't want my legacy to be a person who never takes a break and never experiences something new.
There's a big world out there begging to be explored.
There are places to see, dishes to try, and experiences that can give me lifetime memories.
I won't let my work and responsibilities make me miss out on life's adventures.
And I won't let them stop me from seeing one of the country's legends: Maria Oggay, also known as Apo Whang Od.
Not only is she a centenarian, but she's also a badass, a national treasure, and a living legend.
Nicknamed the last living mambabatok, this 106-year-old tattoo artist is responsible for the tourist boom in the Cordillera region.
Thousands of foreigners and Filipinos would take the long and bumpy 13-hour drive from Manila to see her at work.
For those who visit Buscalan, Whang Od will always be their priority.
Even better, she ensured the 1,000-year-old batok practice will go on by inspiring and training her descendants.
Even if I don't get inked by this legend, a glimpse of her would be enough and the icing on the cake.
After all, I came to Mount Amuyao and Buscalan to find the antidote to my non-stop grind.
08:29 AM: Time to meet the legendary Apo Whang Od
As we followed our Buscalan tour guide, Marcial, I noticed something off about the village.
Although remote, it doesn't have the feel of a traditional tribal village.
I have seen tribe villages in Visayas, Mindanao, and Thailand.
And Buscalan doesn't resemble one.
With no wooden huts and cogon roofs, it's a maze of concrete, crowded structures.
Except for the rice terraces and surrounding towering mountains, it looks a bit like some of the mazed sitios in Cebu City.
Plus, some houses in Buscalan, Kalinga have Wi-Fi access and other modern conveniences.
In fact, there are houses equipped with Starlink in Buscalan.
I'm not saying it in a negative light.
At least, they're progressing and providing services to travelers seeking modern amenities and creature comforts.
And besides, they still speak Butbut, and they have retained their traditions and practices.
A few minutes later, we arrived at the spot where Apo Whang Od does her rituals.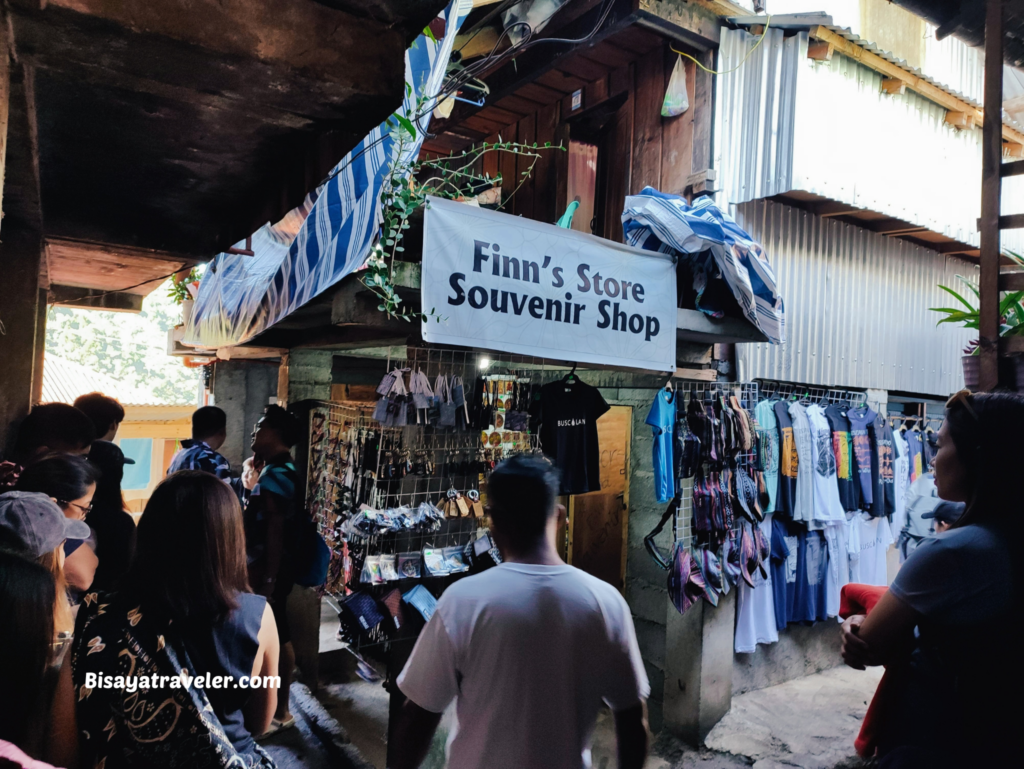 Unfortunately, the lines were long, and many people were impatient.
A local Buscalan tour guide suggested that we might have a chance to get inked by Apo Whang Od if we wait in line until 5 PM.
Well, that was a bummer.
We had to get back to the drop-off point by 12 NN.
We had flights early the next day, and waiting in line for hours for a puncher's chance was not a smart decision.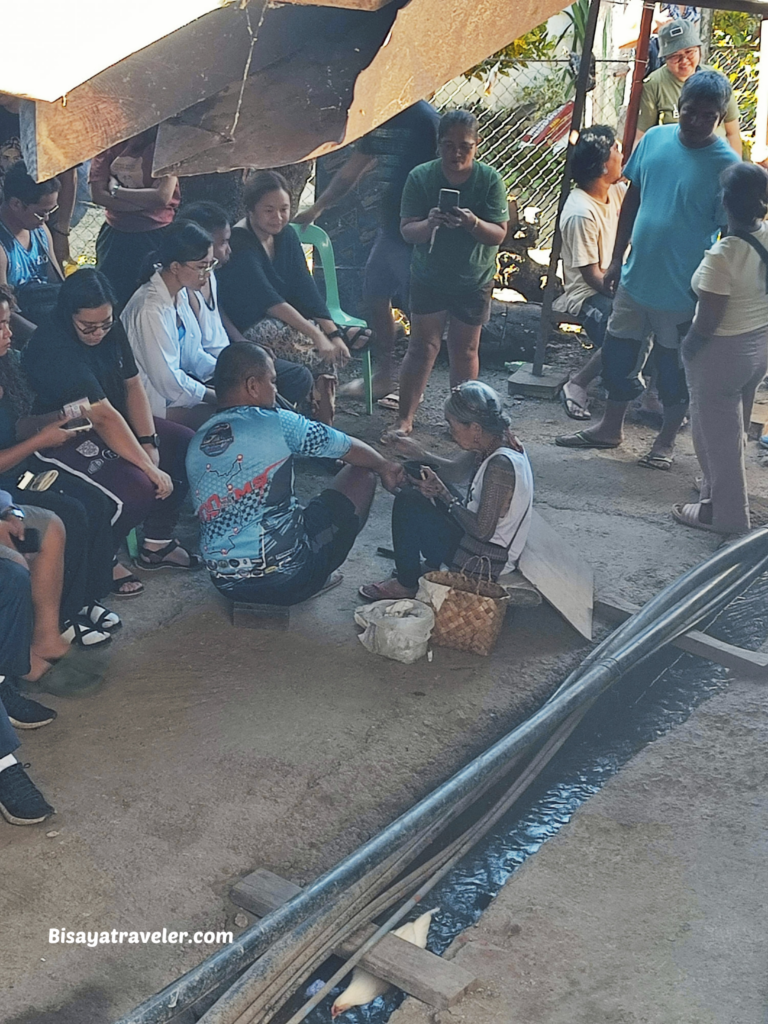 There was only one way for us to get up close to the iconic Apo Whang Od.
And that was a selfie or a group picture.
That's fine, I say to myself.
08:56 PM: Grace and Elyang
With a long queue of impatient tourists, it was impossible for us to get Apo Whang Od's signature 3-dot tattoo.
But there were two alternatives presented to us by Marcial: Grace and Elyang, Apo's proteges and descendants.
Besides Apo Whang Od, they were the only artists in the Butbut tribe allowed to do the signature tattoo.
Speaking of these three dots, this tattoo represents Grace, Elyang, and Apo.
Thanks to Marcial's charm and experience, some of us finally got that signature tattoo.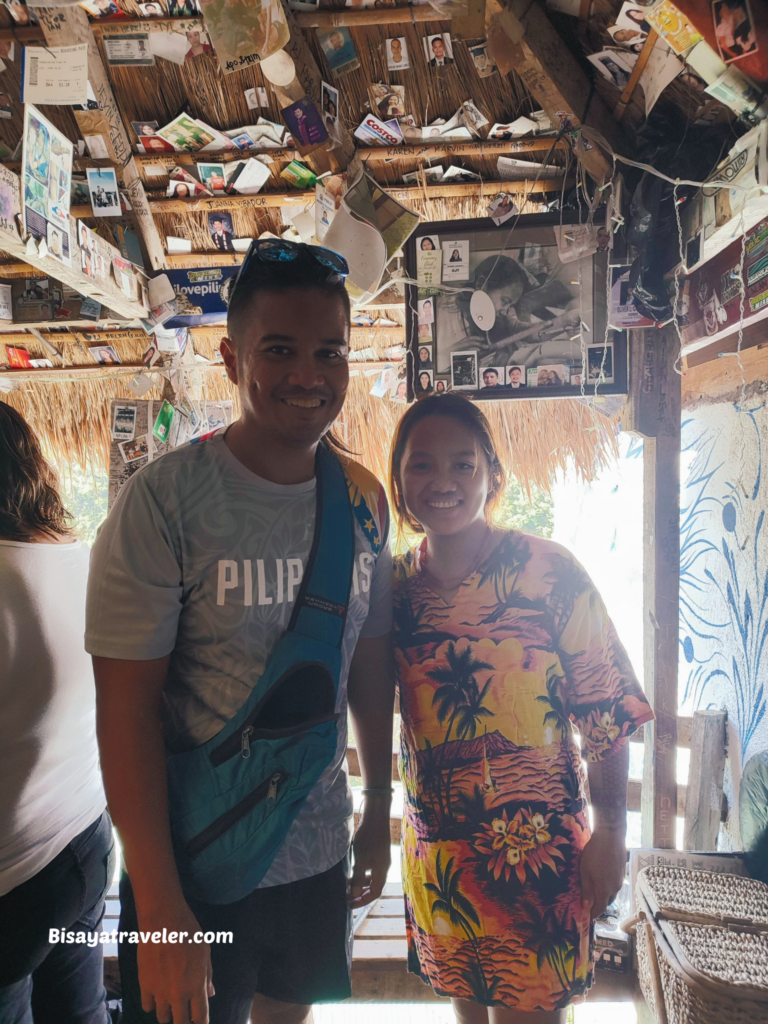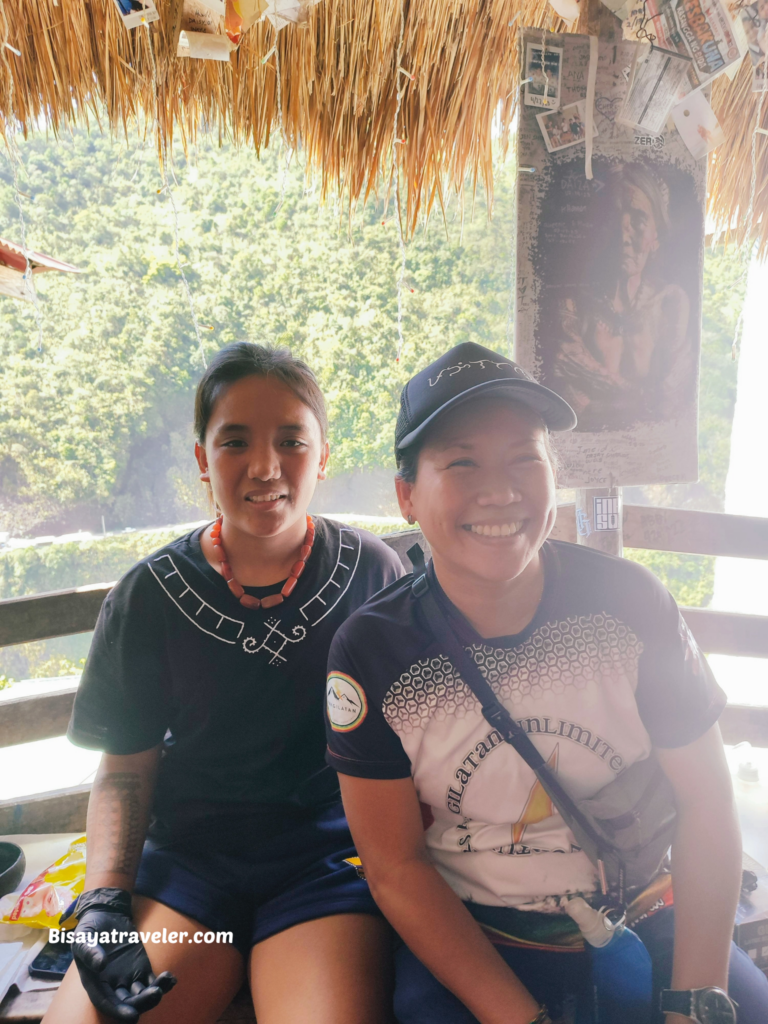 09:30 AM: A snap with Apo Whang Od
A fat paycheck is, no doubt, nice.
But what's the point if you're too busy or stressed to enjoy it?
Money can buy luxuries and comfort, but it can never buy time.
So, invest in experiences and not just in material wealth.
Thus far, my experiences on this journey have been fascinating and colorful.
First, I saw the Banaue Rice Terraces – a National Cultural Treasure in the Philippines and the 8th Natural Wonder of the World (as most Pinoys say).
Then, I climbed one of the tallest mountains in the Philippines.
In Buscalan, I had my first ink and was about to meet another Filipino icon.
The line for the photo-op with Apo Whang Od was long and crowded.
We were positioned to be one of the first groups to have pictures with Apo.
But the other tourists were rowdy, hot-tempered, and cutting corners.
It was pandemonium.
The tour operators were screaming, instructing the tourists to move faster.
And the tourists kept pushing, just to get a picture of Apo.
We were also in a precarious position.
Kirk and I were standing on the edge of a retaining wall.
If we moved and forced our way, the people behind might push us.
A pic with Apo Whang Od would be great and a rare experience.
But would I risk my life for it?
Hell no.
Moments later, we finally had the chance to take a picture with Apo Whang Od.
There was, however, one issue.
Only group pictures were allowed.
Was it a problem?
Not, as far as I was concerned.
So, we rushed and got a picture of the most notable person in the Cordilleras.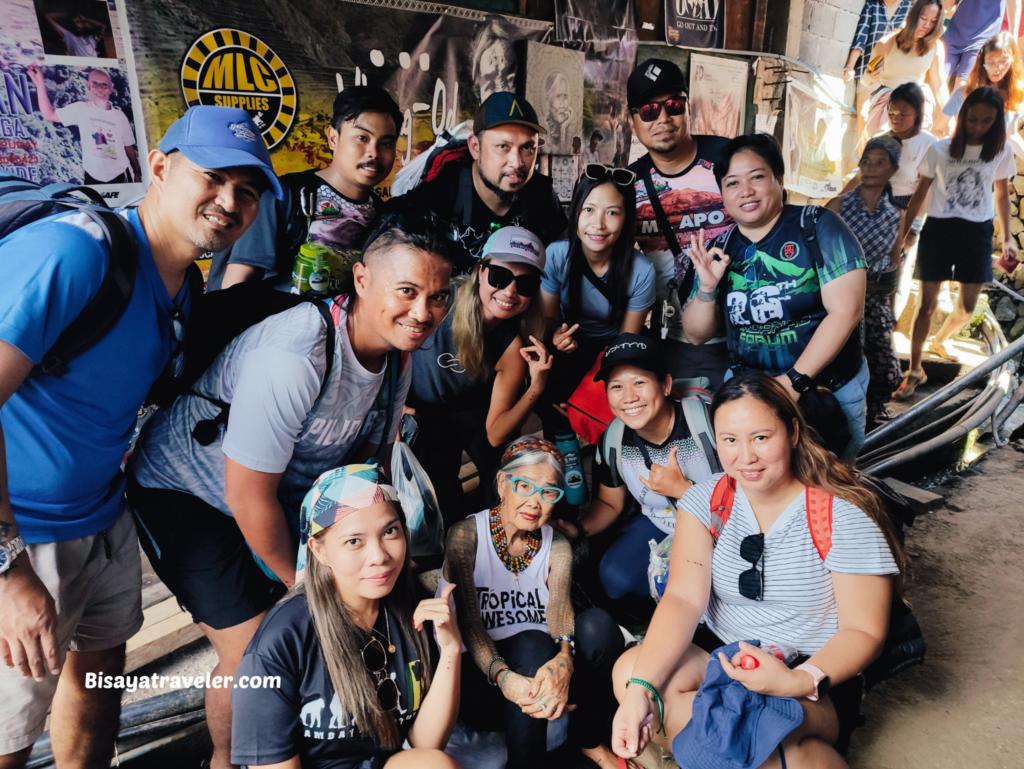 I looked closely at Apo Whang Od and noticed something about her.
She looked tired.
At 106, she's still sprightly and can move like a young woman.
It amazes me to see a woman that old can work and move like her.
But her eyes, the portal to her soul, don't lie.
She's tired.
Maybe Apo Whang Od and I aren't so different after all.
Perhaps she's tired of watching the greedy and bossy tour operators running the tribe.
Or maybe she's tired of people exploiting her talents and image.
I don't know.
These are all presumptions based on my observations.
Who am I to judge?
I'm not a journalist or an investigator.
But remember the news and rumors about her getting exploited by trade fair organizers and influencers?
I'm starting to believe they are true.
Still, it was a pleasant experience for me to see her up close.
It was a joy to see her work.
It was surreal to see a National Artist and a National Living Legend.
And our photo-op with Apo wrapped up our journey into the heart of the Cordilleras.
10:03 AM: The scenery
I thought our escapade in Luzon was over.
On our way to the base, we were enthralled by views of the verdant mountains and rice terraces.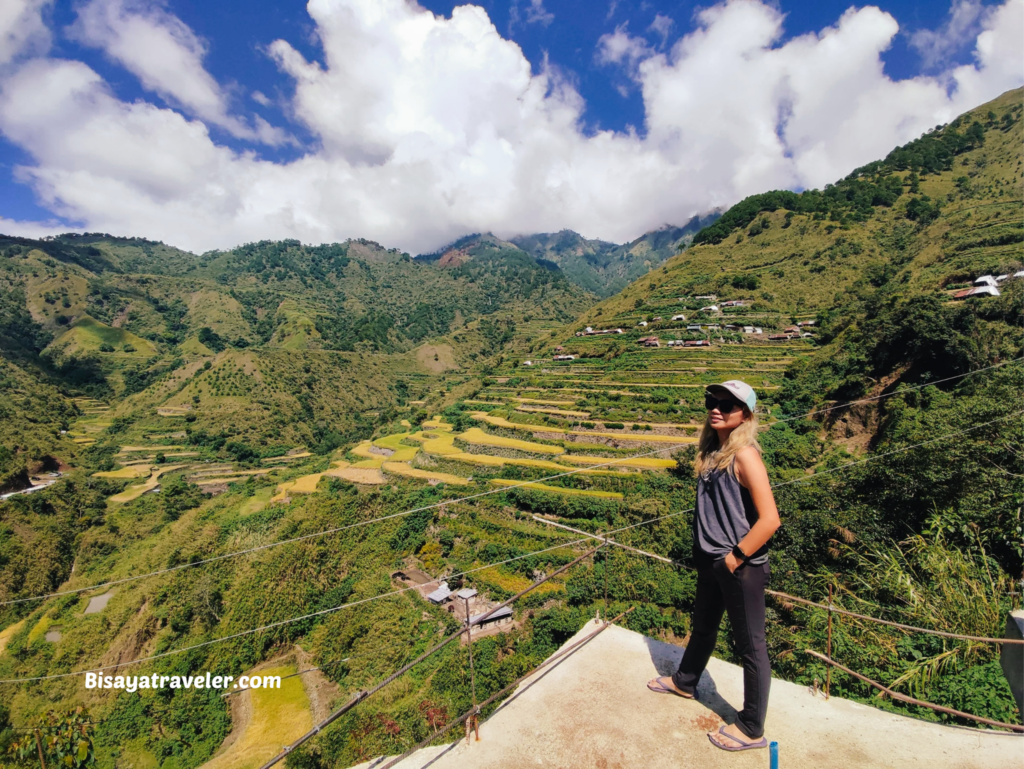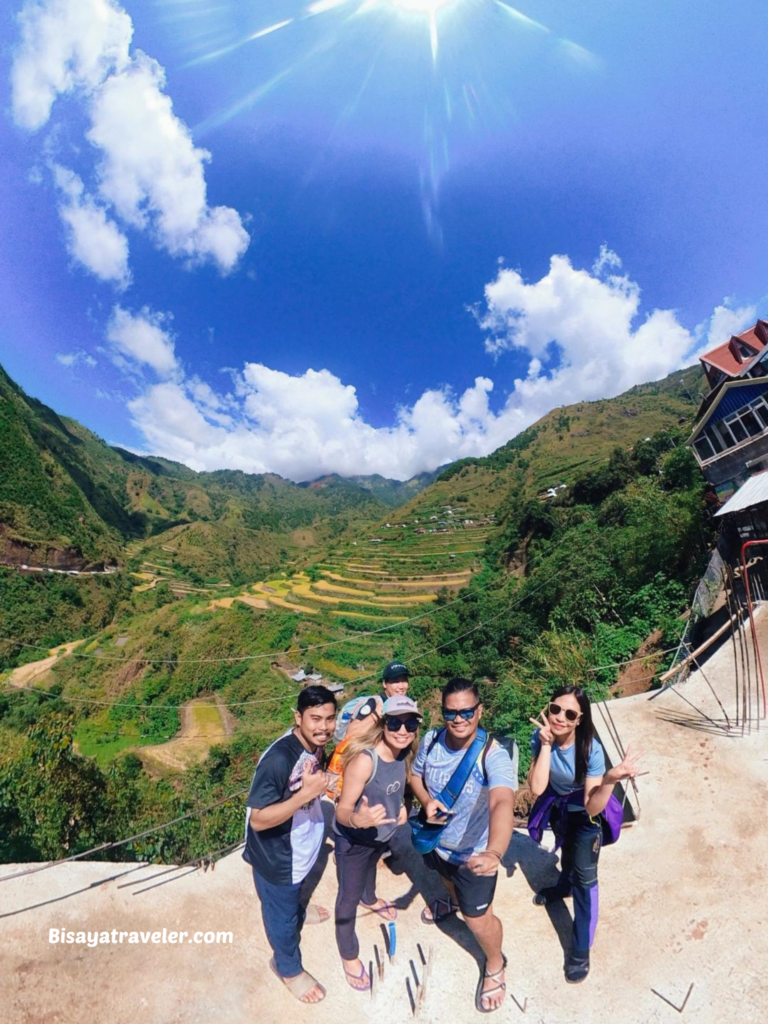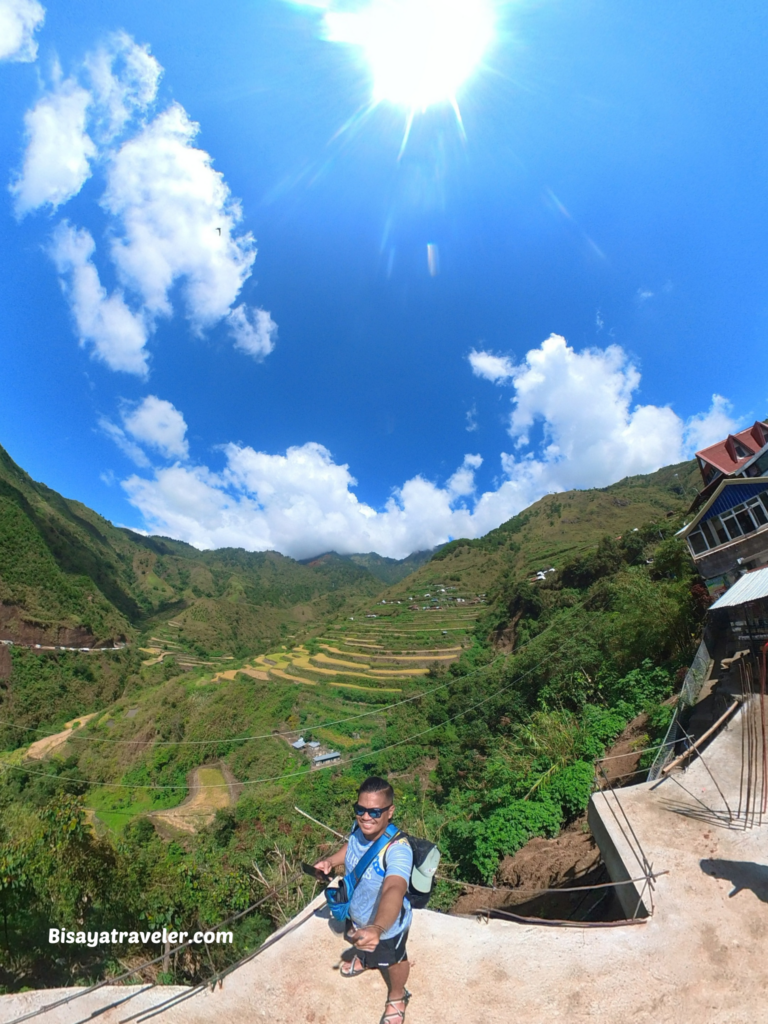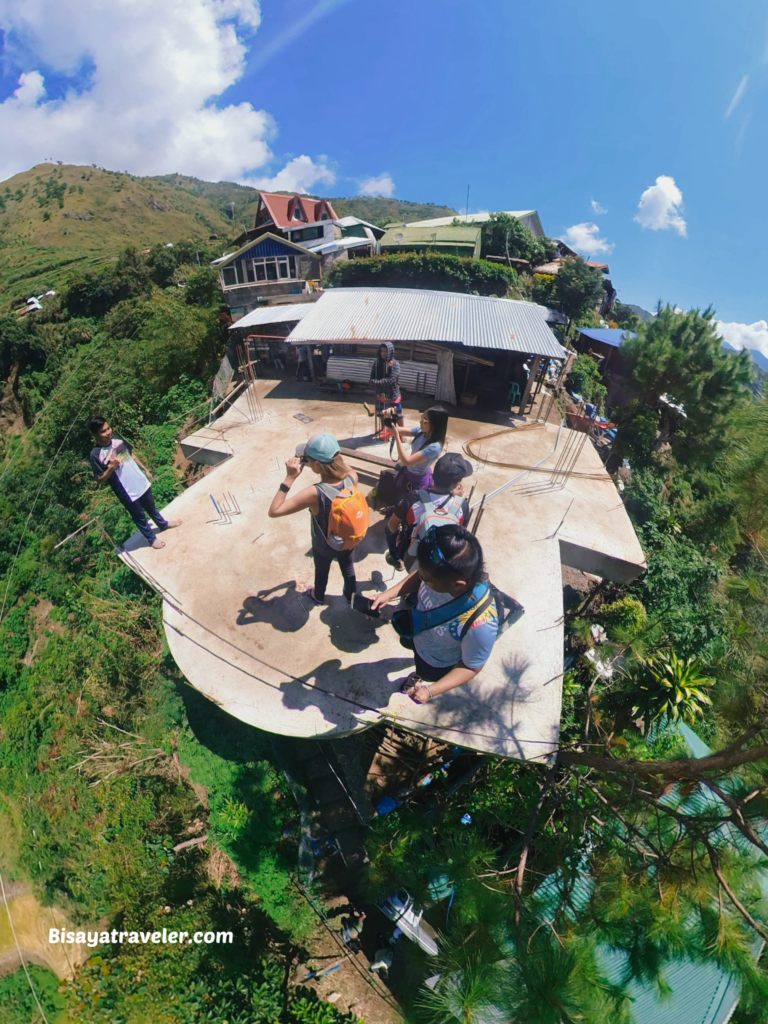 And the stairs and concrete pathway?
They looked picture-perfect in daylight.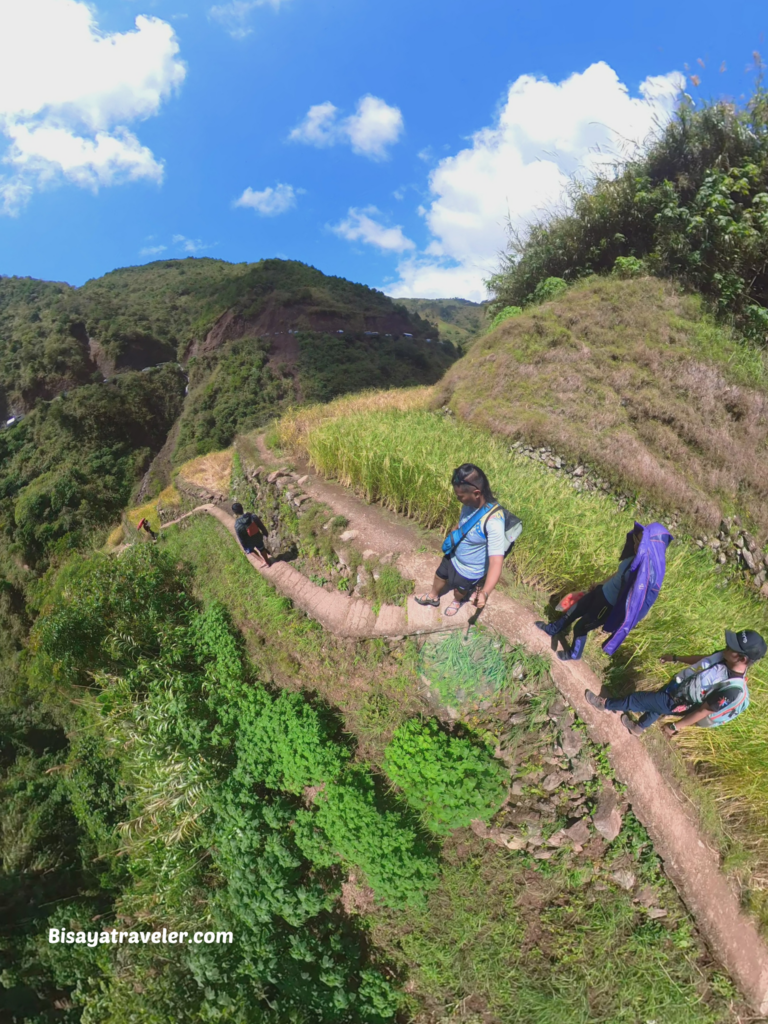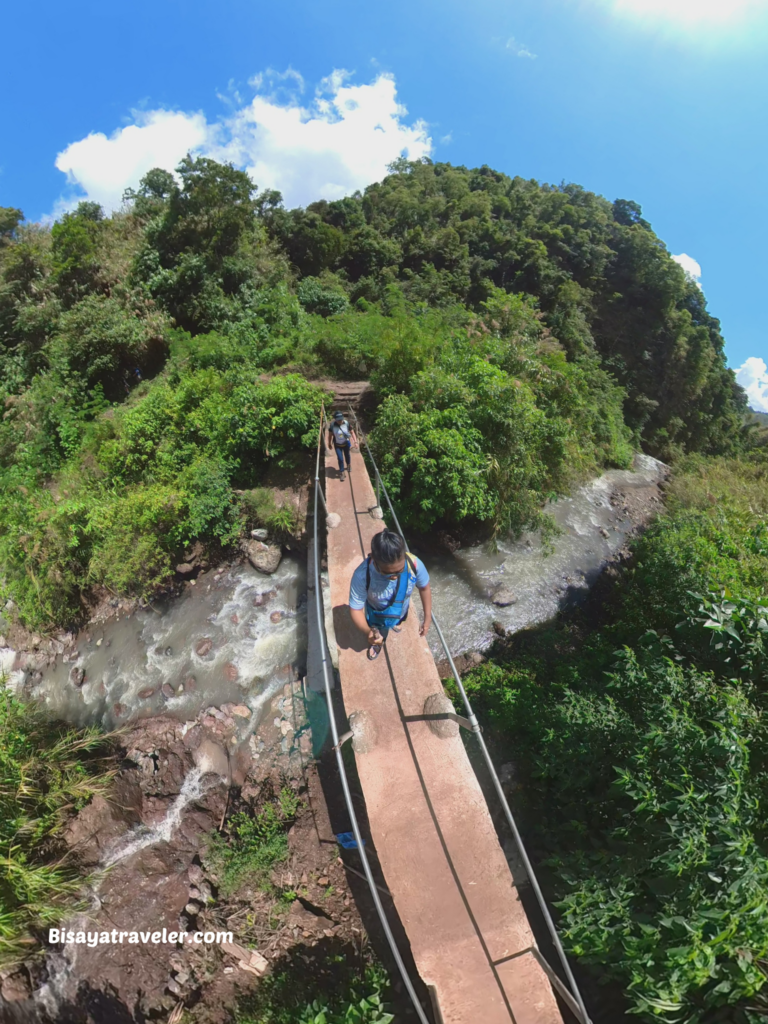 Once we arrived at the base, we had light snacks and refreshments.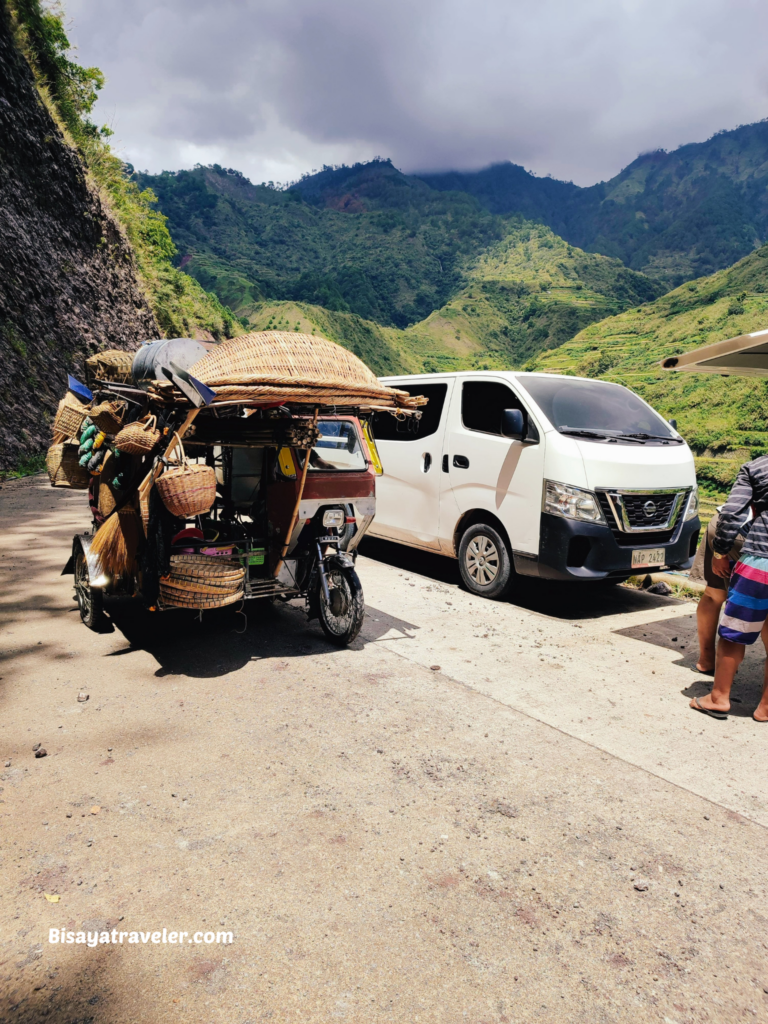 Afterward, we stopped by the "Welcome to Buscalan" sign and snapped pictures of the mountains.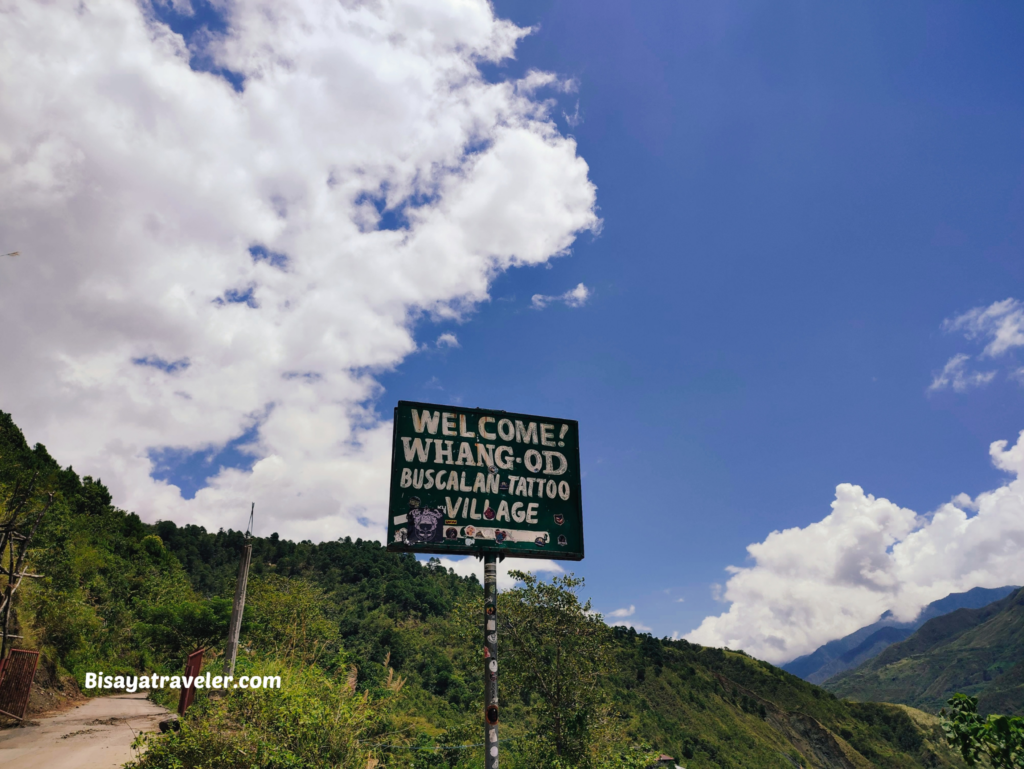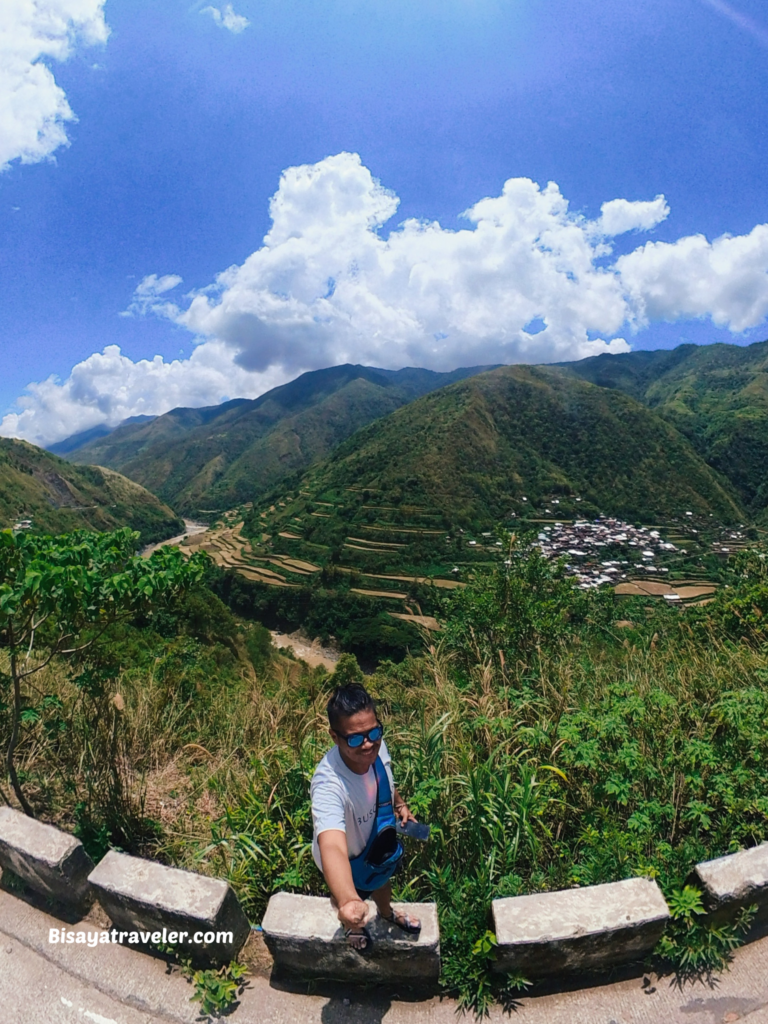 And I had learned and realized so many things on our 13-hour journey back to Manila.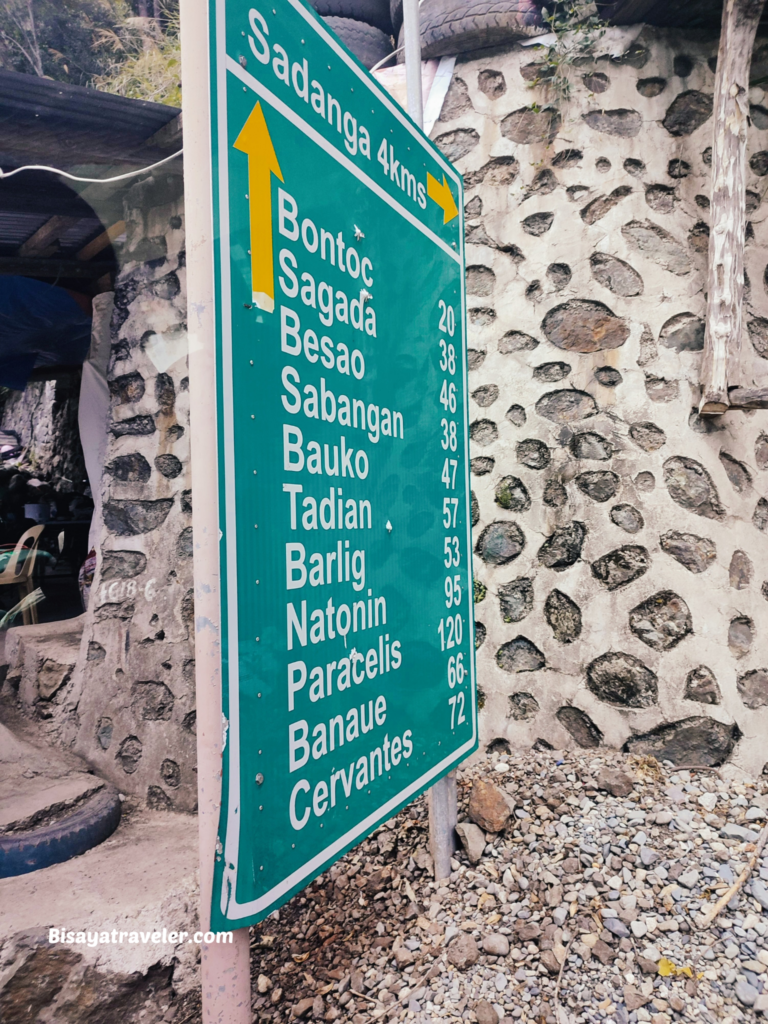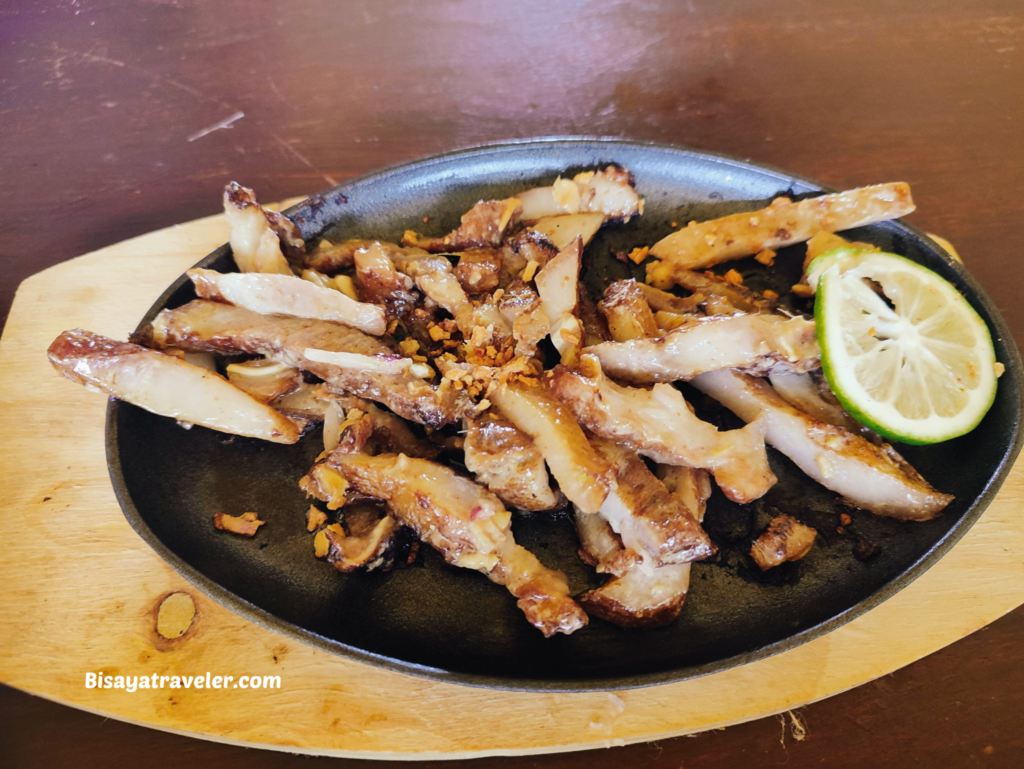 First, personal growth isn't about adding bullet points and skills to your resume.
It's about discovering passions, learning new skills, and becoming a well-rounded individual.
And overworking not only leaves you feeling unfulfilled, but it also stunts your personal growth.
Sure, work is an essential part of life, but it's not the sum of your existence.
So, find a healthy work-life balance.
It's not a luxury but a necessity for a fulfilling and satisfying life.
We may never find Peter Pan's Neverland, but we can always take days off, and make memories.
Your work will be there tomorrow, but the moments of today are irreplaceable.
And truthfully, this may be the only chance I could take a Buscalan tour and see Apo Whang Od.
Frequently Asked Questions
Why visit Buscalan, Kalinga
Aside from getting a tattoo from Apo or her proteges, there are a lot of things to do in Buscalan. You can explore the rice terraces, drink their coffee, and talk to locals about their traditions and culture. There are side trips along the way too, including the Banaue Rice Terraces.
Is Buscalan near Baguio City?
Buscalan is a bit far from Baguio. You need to travel about 180 kilometers to reach Buscalan from Baguio.
How to get to Buscalan, Kalinga?
The easiest and most convenient way to get to Buscalan, Kalinga is to join a tour. For those from Cebu, I recommend SUGBO Adventours. If you're from Manila, you can contact sir Greg for your transportation and Buscalan tour.
How much does a tattoo cost in Buscalan?
A tattoo in Buscalan costs around PHP 200 to PHP 50,000. The signature 3-dot tattoo from Apo, Grace, and Elyang costs PHP 200. On average, the small predesigned tattoos in Buscalan cost PHP 1,000 to PHP 1,500.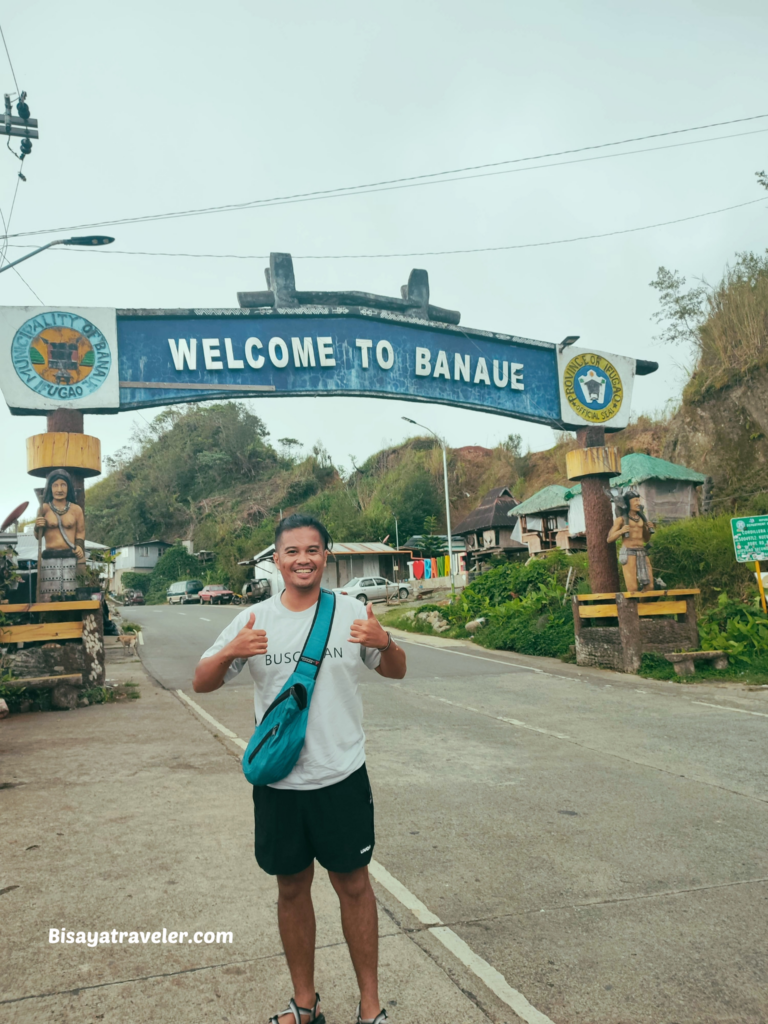 The best ideas don't come when you're working and staring at your computer for hours.
They come when you're enjoying a hobby, taking a walk with nature, or on a long van ride.
Our brain needs downtown to come up with new and innovative ideas.
For the past few months, I couldn't come up with creative ideas.
I had writer's block and had no idea what to write about for my blog.
And my time off work and experiences in Luzon have sparked my creative juices.
Just staring into the eyes of Apo gave me a plethora of ideas.
And that's why I'm sharing this story with you.